The French by Krzysztof Warlikowski. Nowy Teatr Warsaw
The French at Nowy Teatr Warsaw is Krzysztof Warlikowski's latest theatrical expedition in search of the roots of present-day European mentality and identity. Its starting point is Marcel Proust's monumental novel, In Search of Lost Time, which depicts a society in upheaval, shaken by the erosion of the old hierarchy, rampant antisemitism, and, above all, by the outbreak of the Great War. 
Channeling Gilles Deleuze's remark that 'the only dead who return are those whom one has buried too quickly and too deeply,' Warlikowski invokes Proust to reflect on the condition of today's Europe, ironically encapsulated by the French people of a hundred years ago, which explains the play's thought-provoking title.
Doing justice to Proust's vision of various times that exist in parallel, and his efforts to convey the complexities of time will require the creation of parallel situations. The intention is not to produce an on-stage equivalent of the novel, but to find a parallel world, a structure through which our period can be passed as if through the needle's eye of Proust's critical gaze, keeping his clarity of vision and brilliant wit. Immersed in non-linear time, we can examine Proust's radical image in the ideal setting of the theatre, with all its social and spiritual energy.
This is a major European theatre project with performance, video, dance and live music.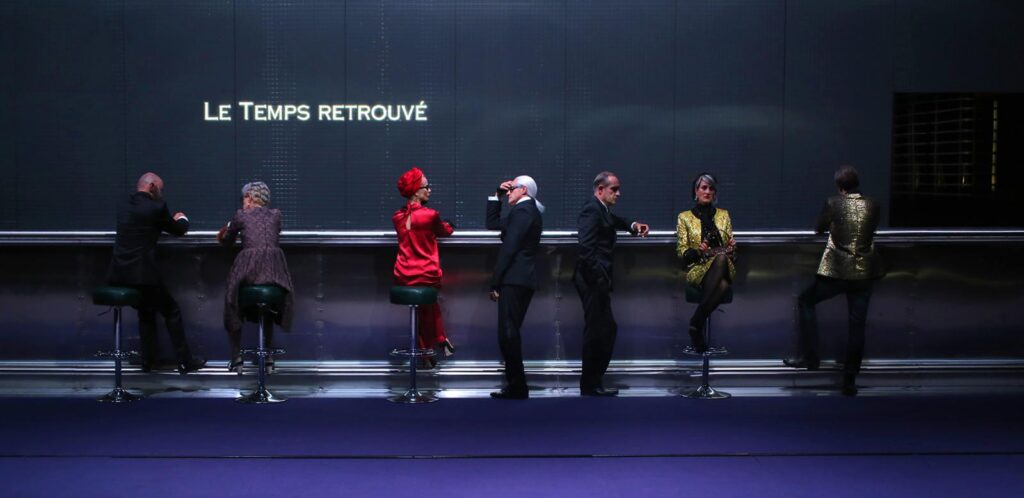 Direction/ Krzysztof Warlikowski
Adaptation/ Krzysztof Warlikowski, Piotr Gruszczyński
Collaboration/ Szczepan Orłowski
Cast
Agata Buzek / Magdalena Popławska, Magdalena Cielecka, Ewa Dałkowska, Małgorzata Hajewska-Krzysztofik, Maria Łozińska, Maja Ostaszewska, Claude Bardouil, Mariusz Bonaszewski, Bartosz Gelner, Wojciech Kalarus, Marek Kalita, Zygmunt Malanowicz, Piotr Polak, Jacek Poniedziałek, Maciej Stuhr
Set design/ Małgorzata Szczęśniak
Dramaturgy/ Piotr Gruszczyński
Lighting design/ Felice Ross
Music/ Jan Duszyński, one piece by Paweł Mykietyn
Cello/ Michał Pepol
Choreography/ Claude Bardouil
Video/ Denis Guéguin
Graphic animations/ Kamil Polak
production Nowy Teatr Warsaw
co-production/ Ruhrtriennale, Théâtre National de Chaillot (Paris), Comédie de Genève, Comédie de Clermont-Ferrand, la Filature (Mulhouse), le Parvis – Scène Nationale Tarbes Pyrénées