Notre-Dame Cathedral a new life, response to French prime minister Edouard Philippe
French prime minister – Edouard Philippe – said that the rebuilt Notre-Dame Cathedral should be 'adapted to issues of our time'.
We present the proposals of the most creative studio design.
Paris-based architect Vincent Callebaut wants to give Notre-Dame Cathedral a new roof that generates energy and contains an aquaponic farm.
The proposal by Vincent Callebaut Architectures sees the historic cathedral transformed into an eco-friendly building, generating more energy than it consumes, while producing 21 tons of fruits and vegetables a year.
It would also give the gothic structure a "new face" for the 21st century.
Giant greenhouse on top of Notre-Dame Cathedral as the covered garden would stretch the length of the Paris cathedral and along both arms of its crossing, while the building's spire would be rebuilt as a multi-storey platform filled with beehives. The proposal aims to respect the cathedral's original silhouette by matching the greenhouse's profile with the 13th-century timber roof that was destroyed in the fire. Its structure would be built from gold-coloured steel.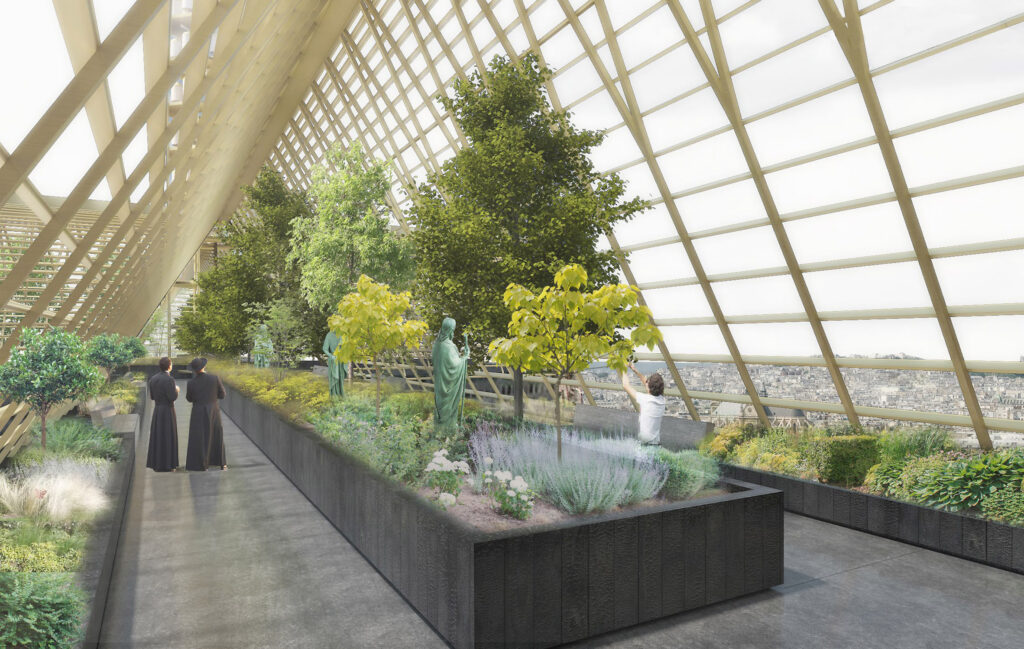 Miysis Studio has proposed combining a reconstruction of Notre-Dame's spire with a modern glazed roof to "find the right balance between history and future" for the cathedral.
The visualisation studio created the images as an idea of how the cathedral, which was devastated by fire last month, could be rebuilt using both traditional and modern elements.