New entrance building for Berlin's Museum Island
The James Simon Galerie' building – the new entrance to Berlin's Museum Island – is now complete, and has been handed over to local authorities ahead of its public opening in summer 2019. Designed by David Chipperfield architects, the building will provide service facilities for museum visitors as well as a temporary exhibition space and an auditorium with around 300 seats.
while its presence can be justified by the functions and facilities it provides for the museological program, its purpose is to reorganize urban relations and accessibility within the museum island. its role is not so much defined by its function but rather by its responsibility as a public building at the heart of the city
Together with the "archaeological promenade", the James Simon Galerie represents the heart of the masterplan for museum island developed in 1999. the building is named after one of the city's most important patrons, who bequeathed his art collections and excavation findings to the berlin state museums at the beginning of the twentieth century. over the coming months, the James Simon Galerie will be fitted-out in time for its inauguration in 2019.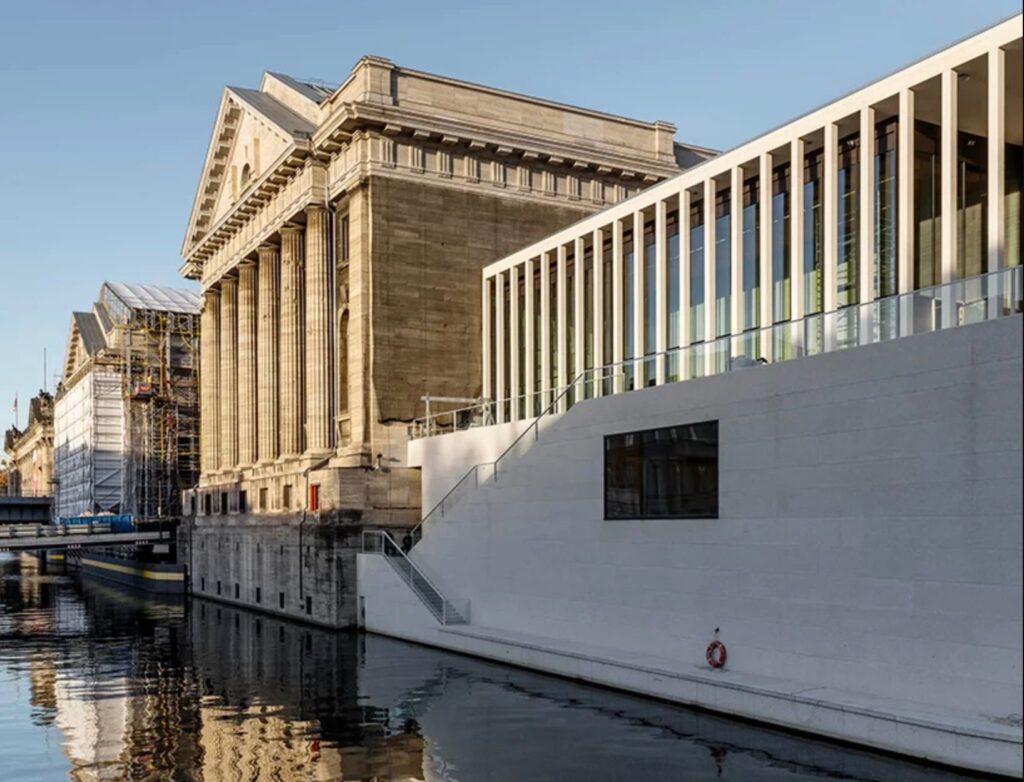 the architectural language of the james simon galerie adopts existing elements of the museum island, primarily from the external architecture, such as built topography, colonnades and outdoor staircases, making reference to schinkel, stüler and the other architects involved in the creation of museum island,' says the design team. 'the materiality of the building in reconstituted stone with natural stone aggregate blends in with the rich material palette of the museum island with its limestone, sandstone and rendered façades, while smooth in-situ concrete dominates the interior spaces.
After ascending three flights of wide steps, visitors enter the building at its upper level.here, a generous foyer provides direct access to the main exhibition floor of the pergamon museum. the foyer also encloses the cafeteria and opens out onto a grand terrace that runs the full length of the building. below, a mezzanine floor accommodates the museum shop, a large cloakroom, toilet facilities and lockers, while the temporary exhibition spaces and an auditorium are situated in the basement level.