Jean-Michel Othoniel. Oracles exhibition
From Genesis to the histories of Herodotus, between history and myth, the Tower of Babel and its destruction have fired the imagination. What remains of this ziggurat, this architectural utopia and symbolic link between heaven and earth? What happened to the millions of bricks used to erect it? What new utopias were built on the ruins of that thwarted aspiration? These are the questions that underlie Jean-Michel Othoniel's latest works, presented for the first time at Galerie Perrotin in Paris.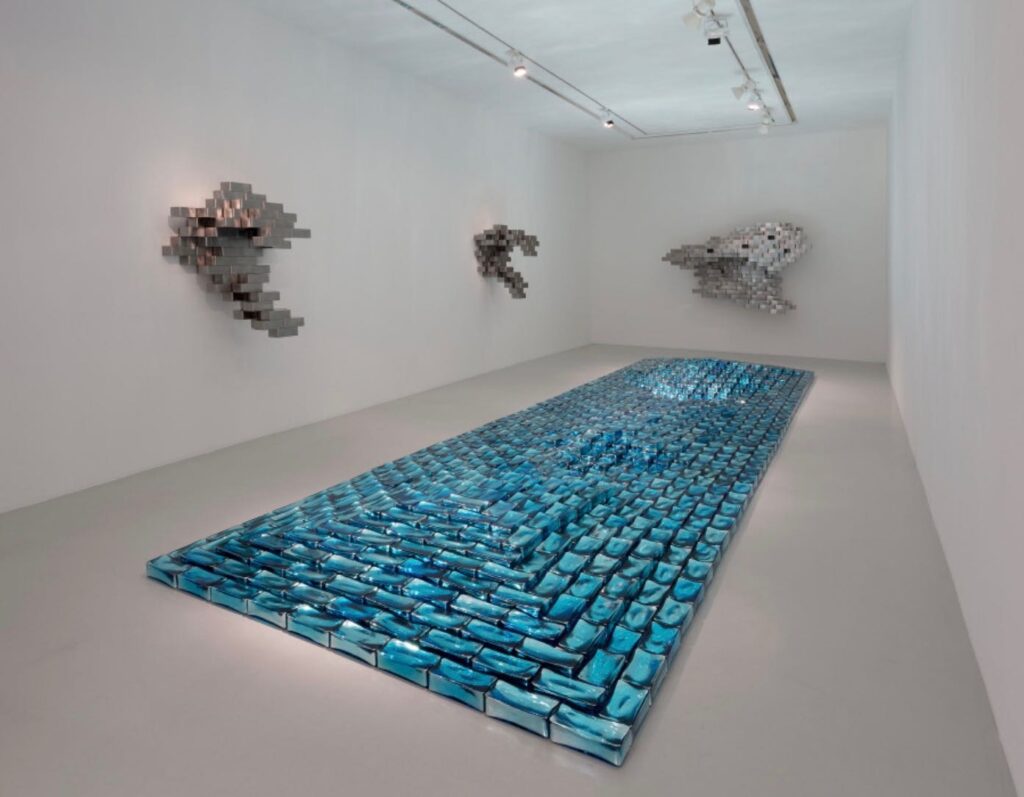 For this exhibition, which brings together fifteen minimalistic, enigmatic sculptures made of glass or metal bricks, the artist has systematized the use of a module that entered his work in 2009, after a journey to India. On the road from Delhi to Firozabad, a city with an age-old glassmaking tradition, he was struck by the stacks of bricks accumulated in the hope of building a house and by the countless altars covered in offerings and multicoloured necklaces. Since then, he has called on the knowledge of Indian glassblowers to blow blue, amber, yellow and grey glass bricks. A modular element – like the glass beads that have been his hallmark since 1993 – brick has led Jean-Michel Othoniel towards more refined, more radical works, somewhere between sculpture and architecture, enabling a new monumentality inaugurated with Precious Stonewall (2010), a gigantic monolith covered in necklaces, and developed, more recently, with the impressive Big Wave (2018), which measures 15 metres long and 6 metres high. In brick, the artist has found a universal element, a common denominator between cultures and one that has traversed the history of humanity. Feeding his latest research and generating material for new 'obsessions', brick enables him to reach the architectural scale he was aiming for and to try out cantilevered constructions, to go beyond the idea of sculpture, to invent a new relation to space, to rethink the embedding in the landscape, to radicalize his relation to geometry or to create places – grottoes, paths, walls, agoras – that set out a different relationship to the body, thereby synthesizing the recurrent themes of his oeuvre.
Oracles is Jean-Michel Othoniel's eighth solo exhibition at Galerie Perrotin since the start of their collaboration in 2003. He has held solo exhibitions in leading international institutions such as Centre Pompidou (Paris), Hara Museum (Tokyo), Leem Samsung Museum of Art (Seoul), Macau Museum of Art, Brooklyn Museum (New York), Peggy Guggenheim Collection (Venice), Fondation Cartier pour l'art contemporain (Paris) and more. His works have entered the most prestigious public and private collections, including the Museum of Modern Art – MoMA (New York), the New Orleans Museum of Art and the Montreal Museum of Fine Arts, among others.
Jean-Michel Othoniel has been commissioned to create many site-specific works: Kiosk of Night Walkers for the Palais Royal metro station in Paris, Nœud de Janus for the sculpture park of the Samsung Museum of Art in Seoul, Kin No Kokoro for the Mori Garden in Tokyo, and many more. In 2014, with Les belles danses, he was the first contemporary artist to conceive a permanent work for the Château de Versailles in the context of the renovation of the Water Theatre grove. In 2019 he was invited by the National Museum of Qatar, designed by the architect Jean Nouvel, to outline a monumental permanent work composed of 114 fountain-sculptures. Moreover, he will also hold several solo exhibitions in 2019, in Buenos Aires and at Château la Coste, among others.
In November 2018 Jean-Michel Othoniel was elected to the Académie des Beaux-Arts (sculpture section).