L'Hotel
Nestled off the beaten path in Saint-Germain-des-Prés, the hotel looks like a piece of art with its baroque interior, antique furniture, and unusual decorations. Each room is named after a famous person, so, for example, you can spend a night in a suite called Oscar Wild. Ps. In fact, the poet lived in the room until his death in 1900. A lot of big names came through this place, among whom Salvador Dali, Princess Grace, Frank Sinatra, Elizabeth Taylor with Richard Burton, Jim Morrison or Serge Gainsbourg. The charm and glamour of the place is enhanced by an elegant swimming pool and a Turkish bath. Time passes but the hotel still has its patrons among Parisian society, who enjoy relaxing in the hotel bar over a drink from its interesting cocktail menu.
text: IN Places city guide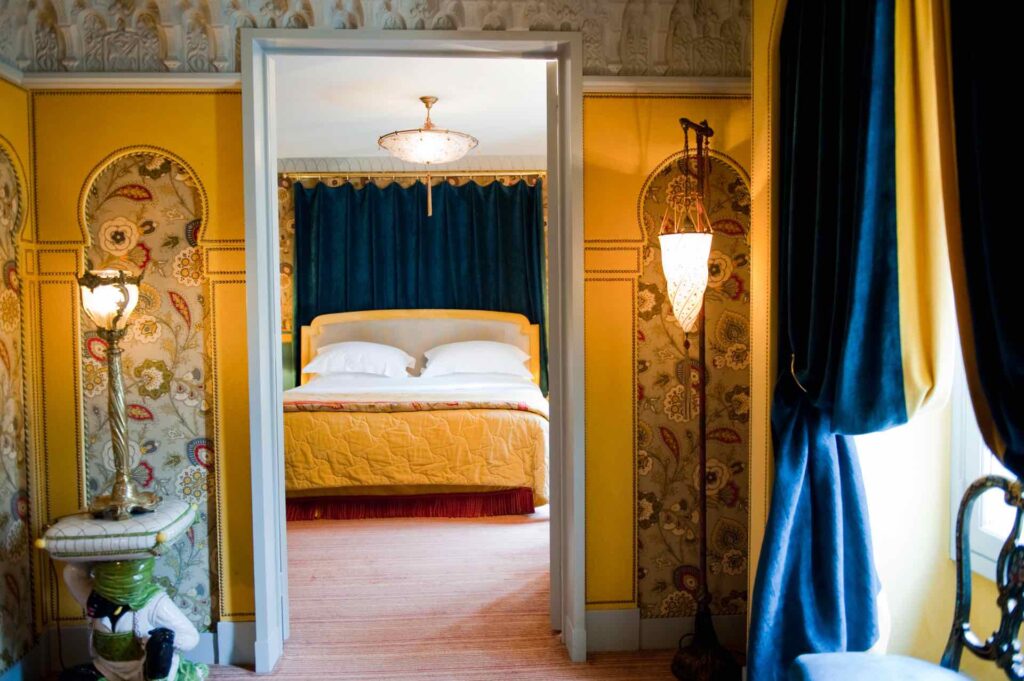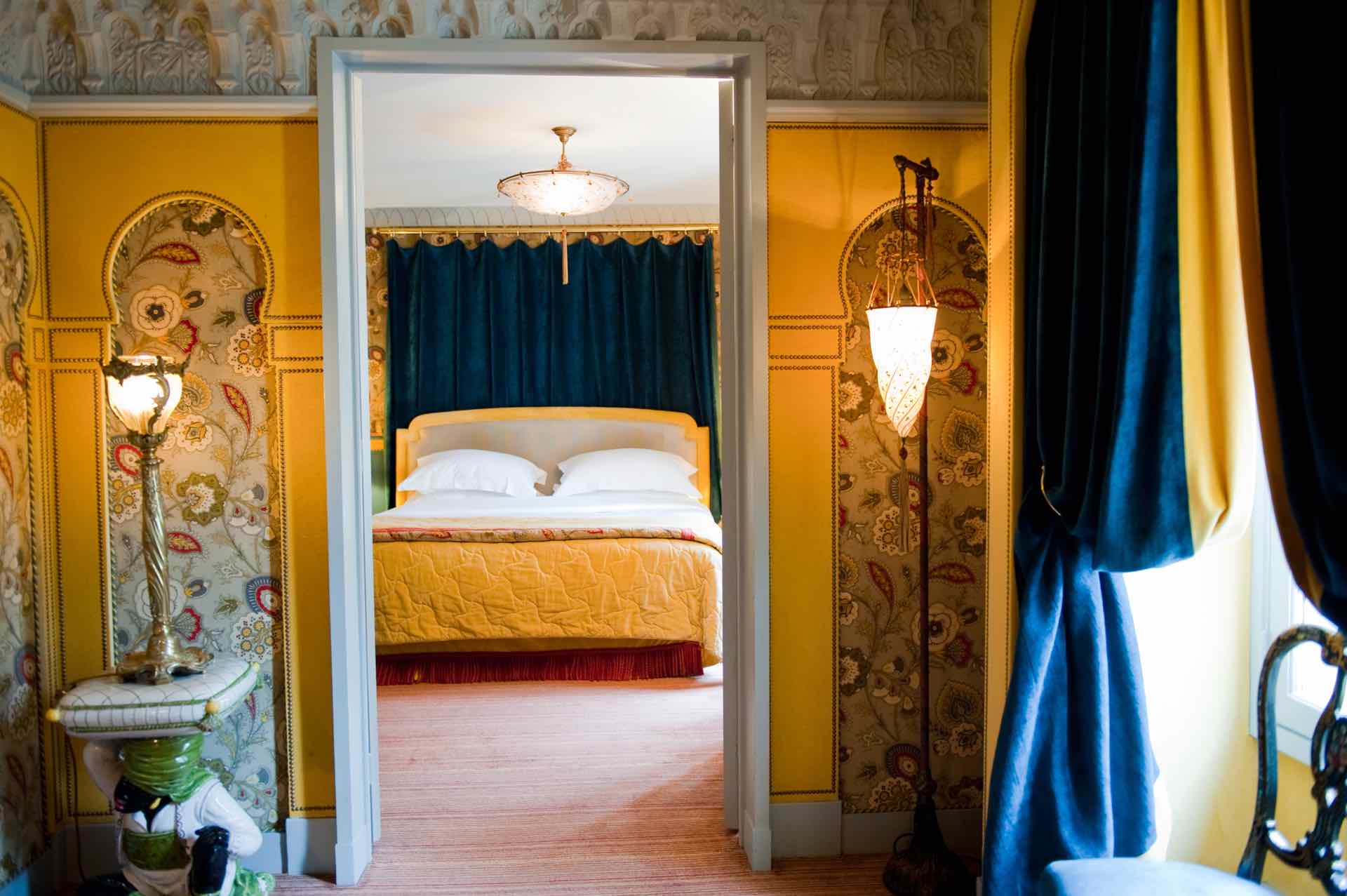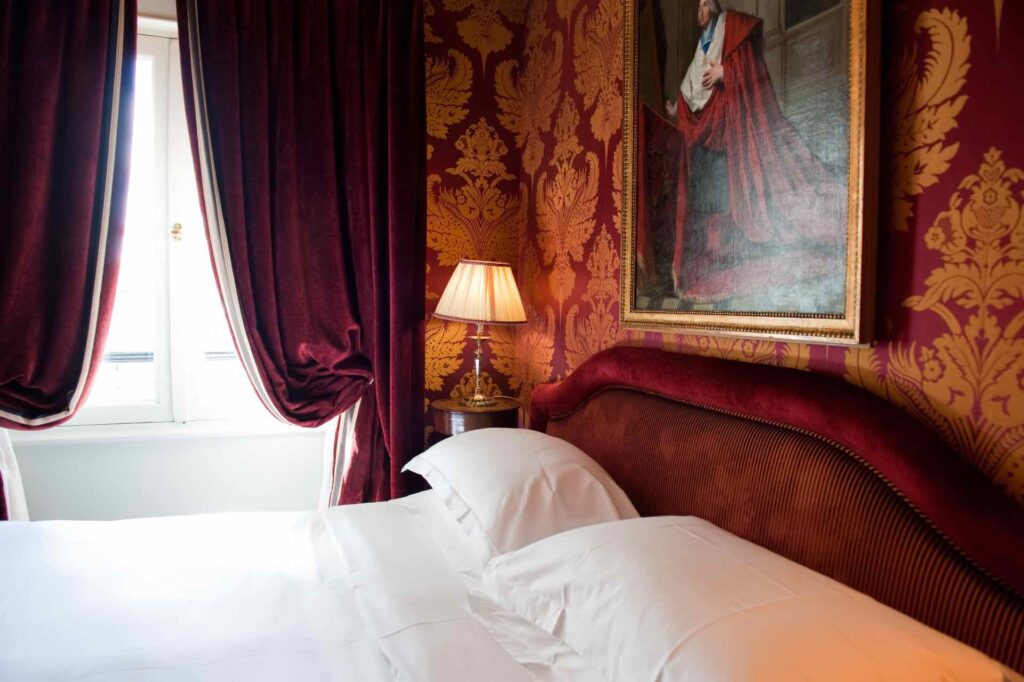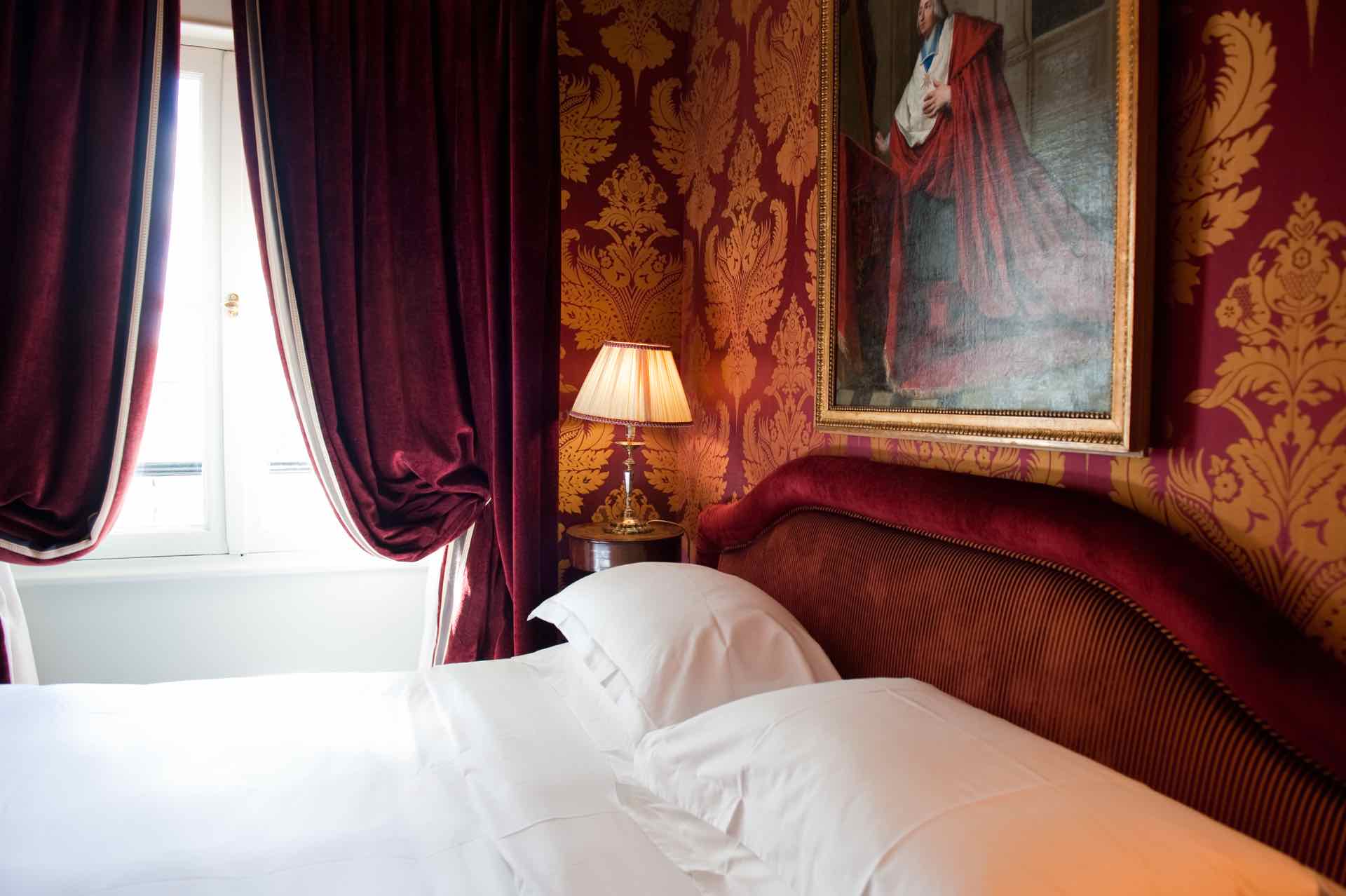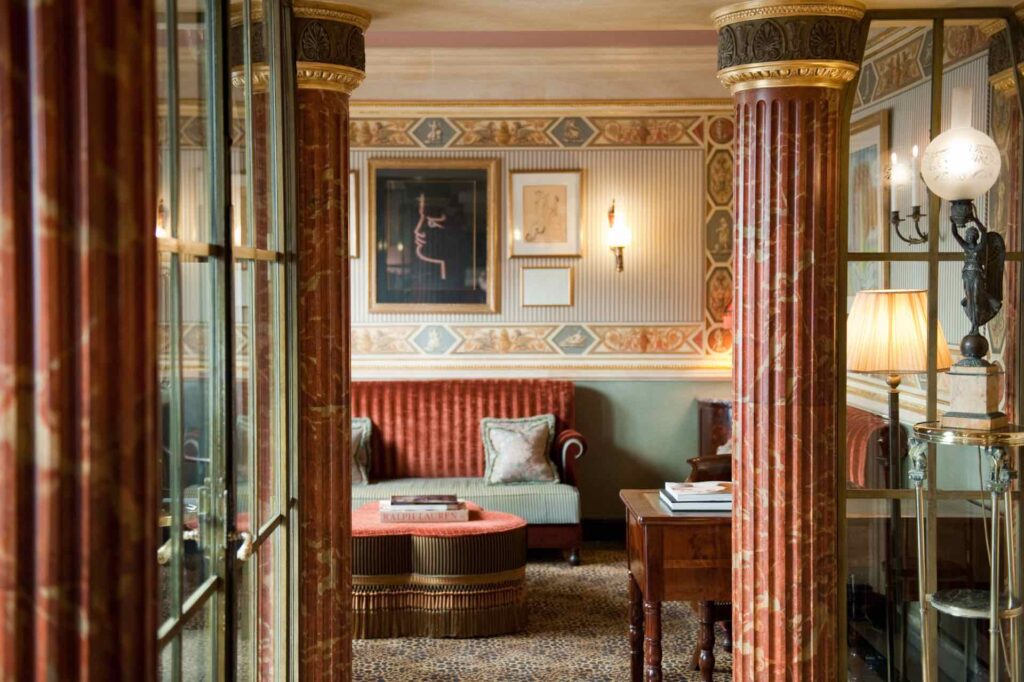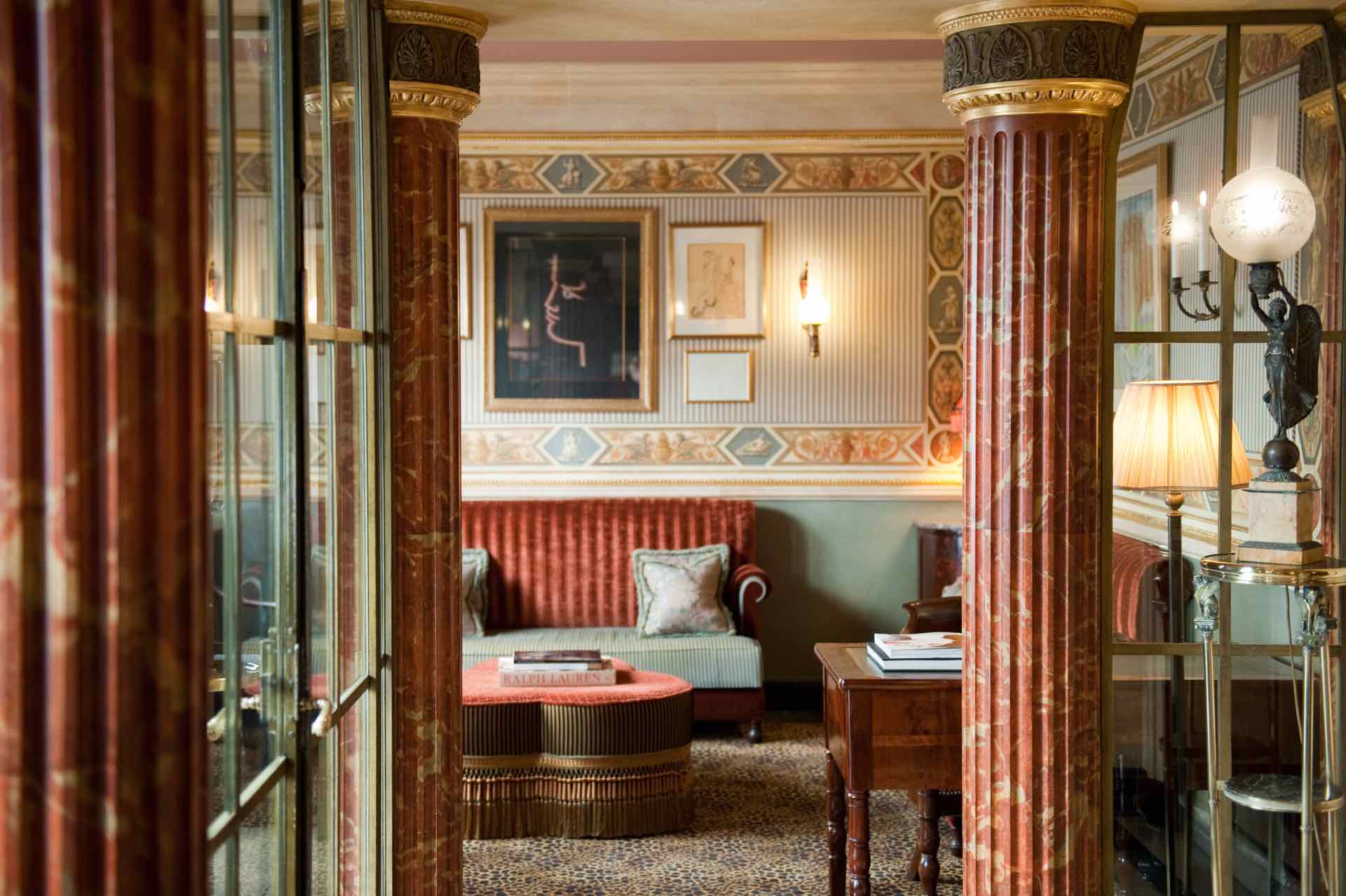 13 rue des Beaux-Arts, 75006 Paris
www.l-hotel.com
tel. +33 1 44 41 99 00
M: Saint Germain des Prés L4
---
Maison Souquet
Only those in the know will experience the luxury of the Maison Souquet, hidden behind an understated façade signaled by two red lanterns. The bawdy, wanton legend of the City of Light was forged in the area around Montmartre, a legend of which the Maison Souquet now forms part. In a building that served as a pleasure house during the Belle Époque, one of the most lavish and licentious pages in the history of Paris has been brought to life. Jacques Garcia has applied his talent to recreating the mystery, elegance, exoticism, sensuality, and ostentatious luxury of these establishments with their own architectural mores. Carried away from the city on the whimsy of the decor, the mind is free to pursue pleasure amid a fantasy setting conjured through artwork, sofas, causeuses, and divans. Perfectly at home, guests see their room open out onto a plush setting where life revolves around the ritual of tea-time, play, and rendezvous before and after dinner.
A temple to hedonism, the Maison Souquet is home to 20 rooms, including six suites with unique interiors.
text: Maison Souquet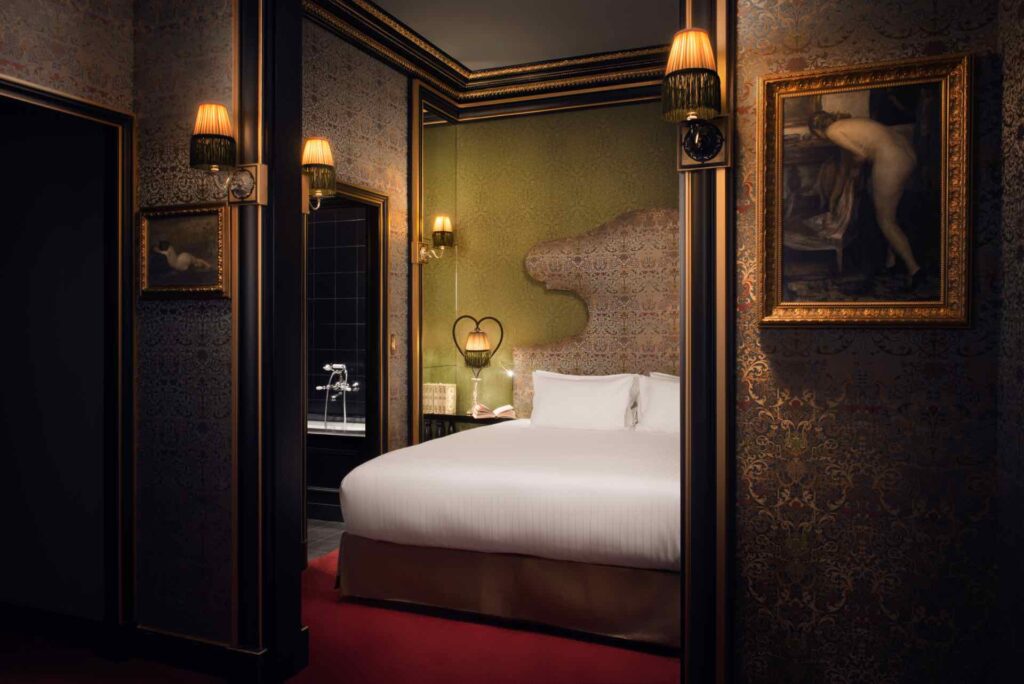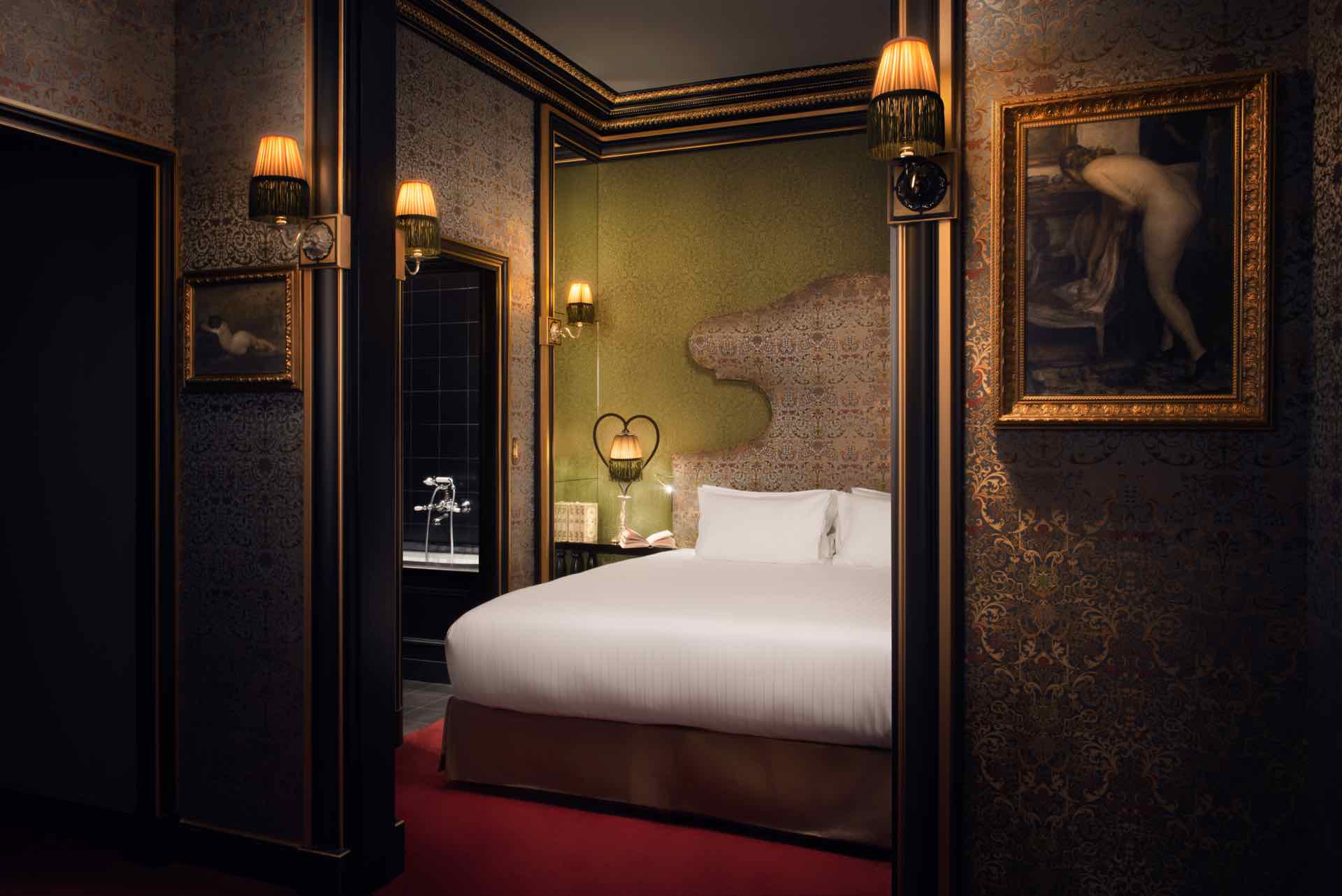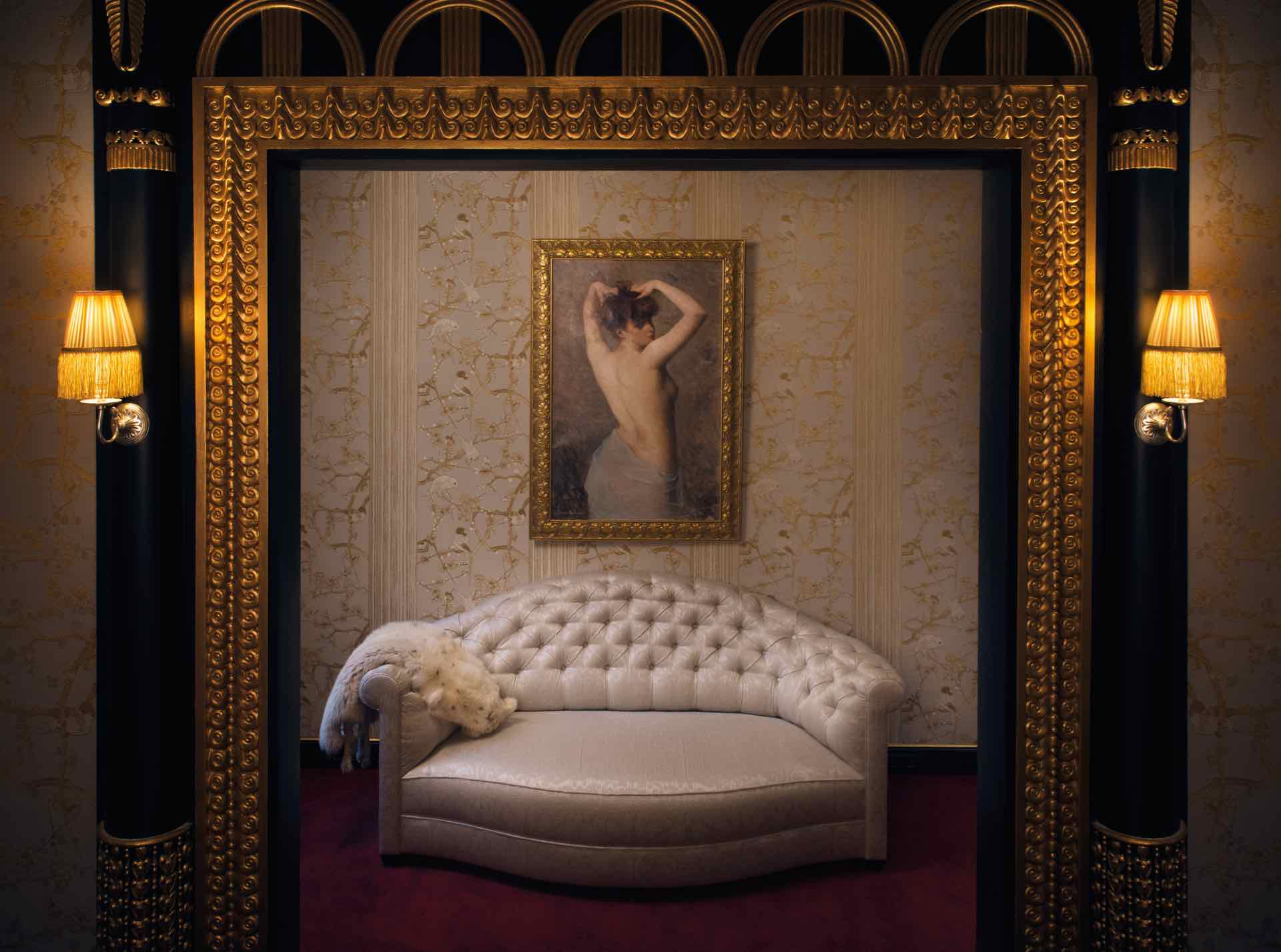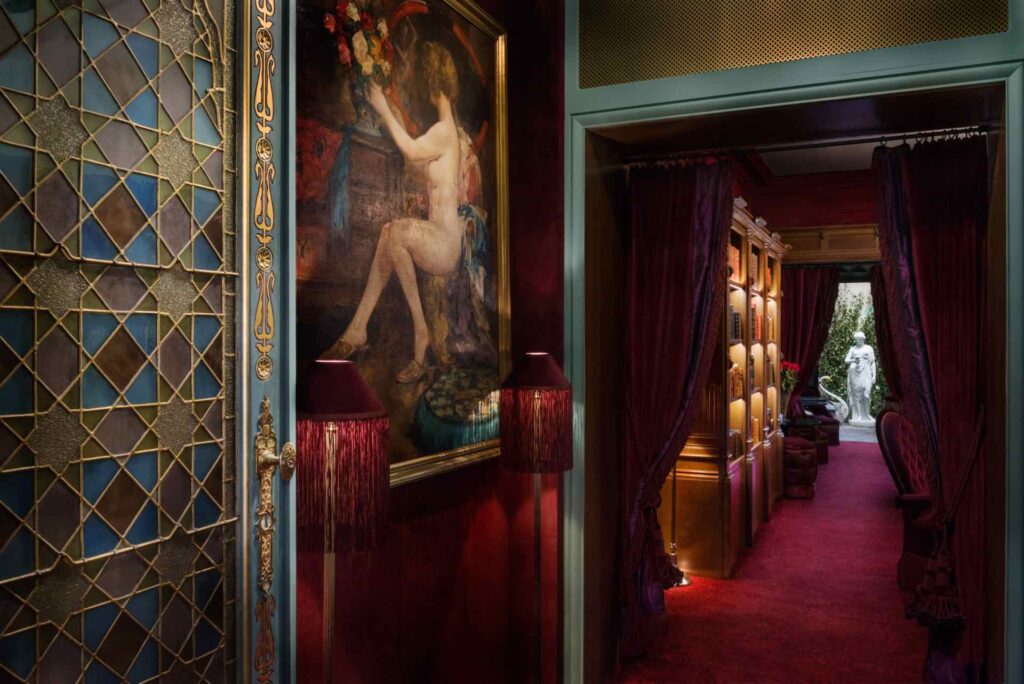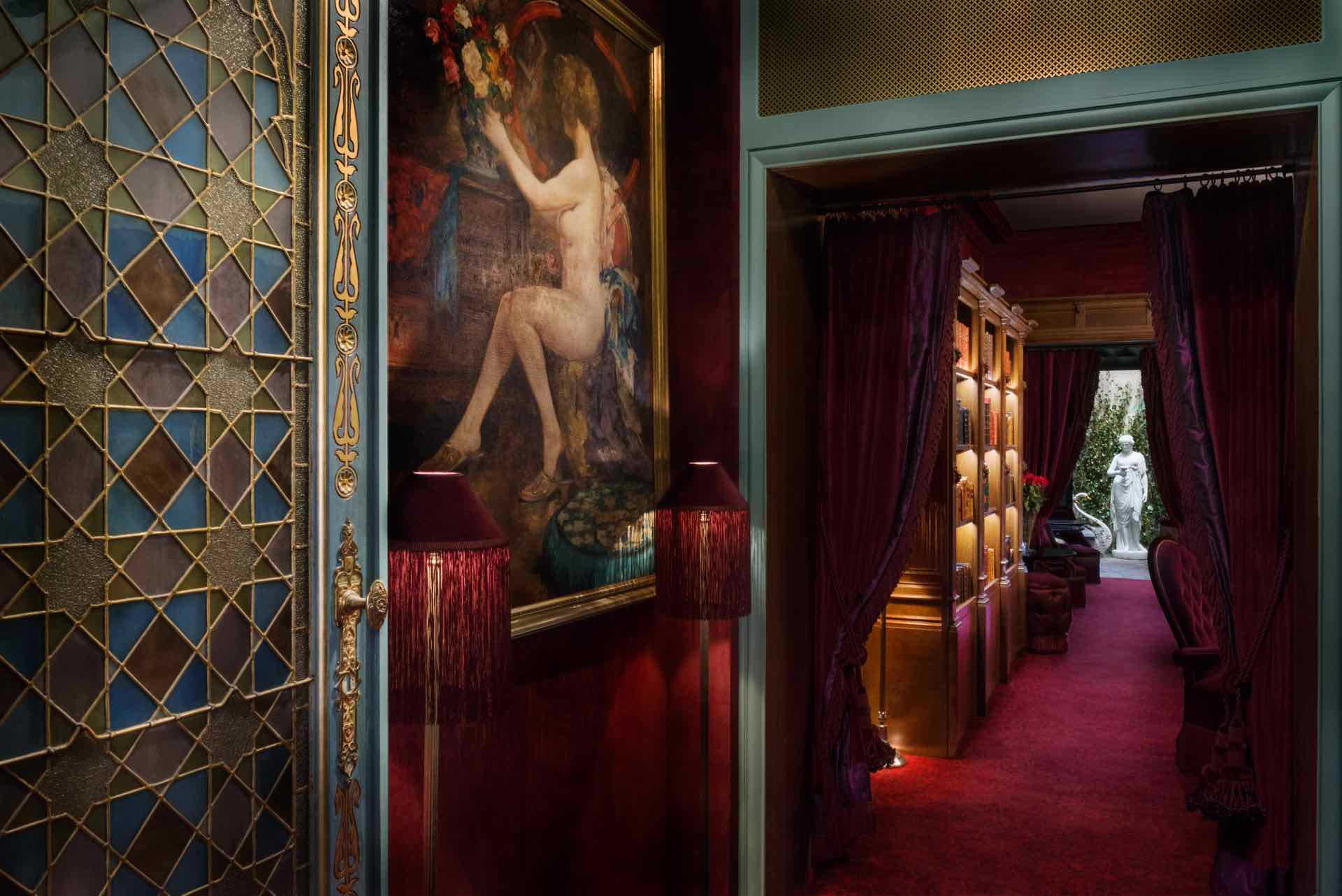 10 rue de Bruxelles, 75009 Paris
www.maisonsouquet.com
+33 1 48 78 55 55
M: Blanche L2
---
Pavillon de la Reine
Close your eyes and let us take you to the 17th century near the wonderful Place des Vosges, to the rooms designed during the reign of Henry IV, and visited by Anne of Austria. Now open your eyes. We bet that it'll be hard to believe that only your senses have travelled in time. It has also happened to a designer Didier Benderli who has preserved historic charm in contemporary interiors by furnishing them with antique furniture and works of art. The service offered by this family-owned hotel is elegant and attentive ensuring its guests top class comfort. A royal hideout located in the heart of Le Marais.
text: IN Places city guide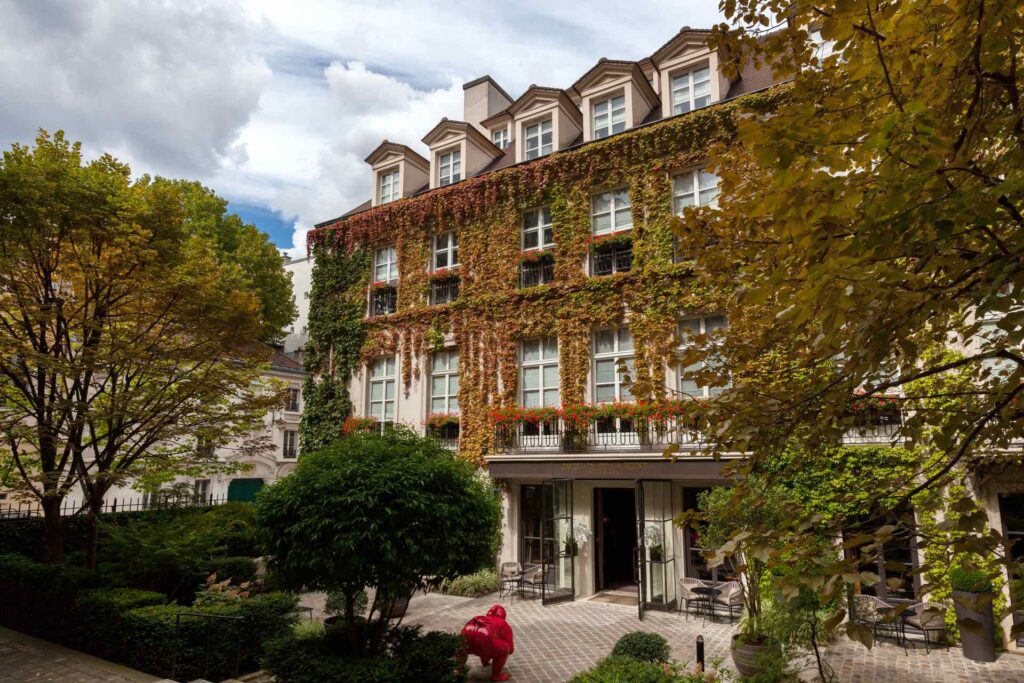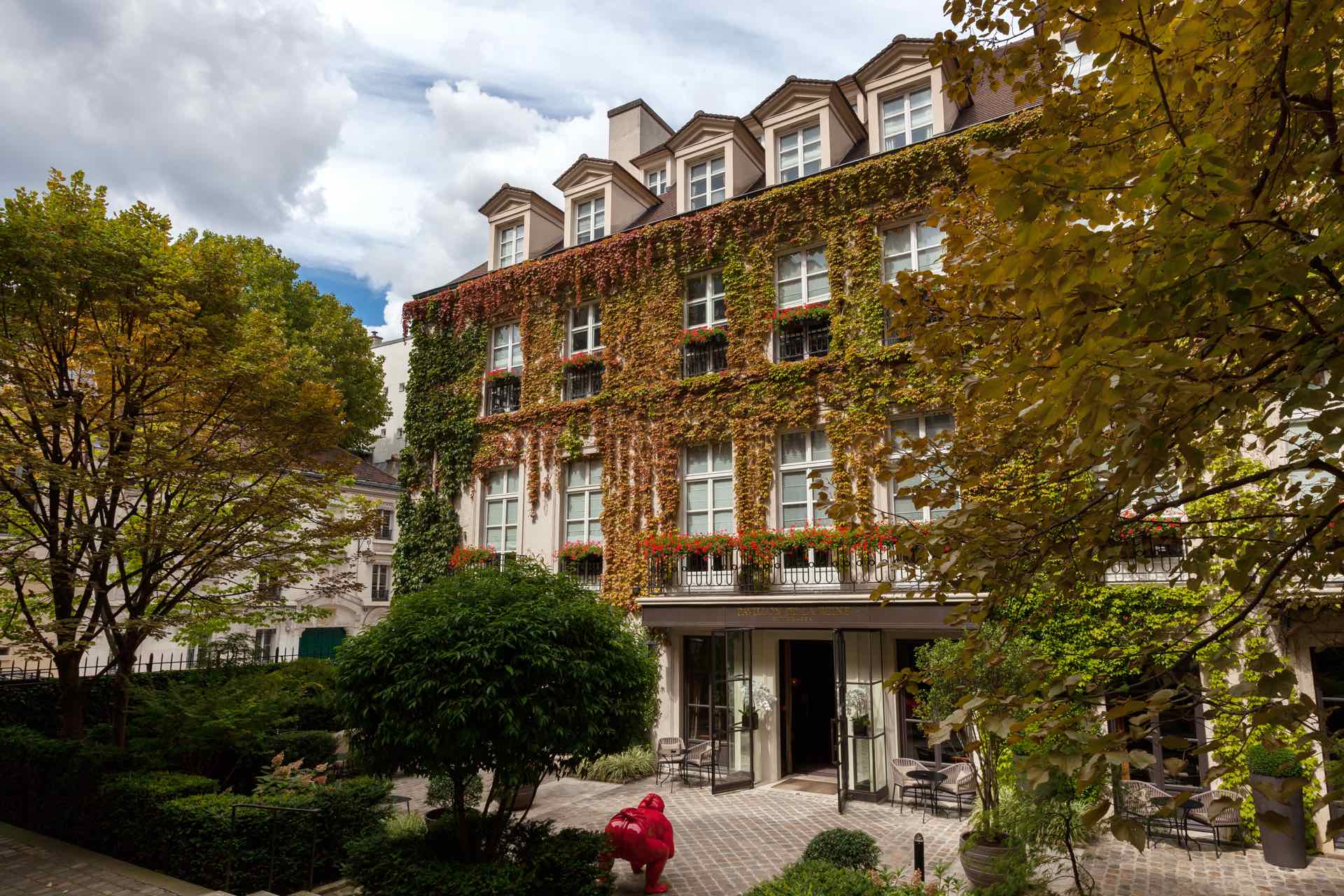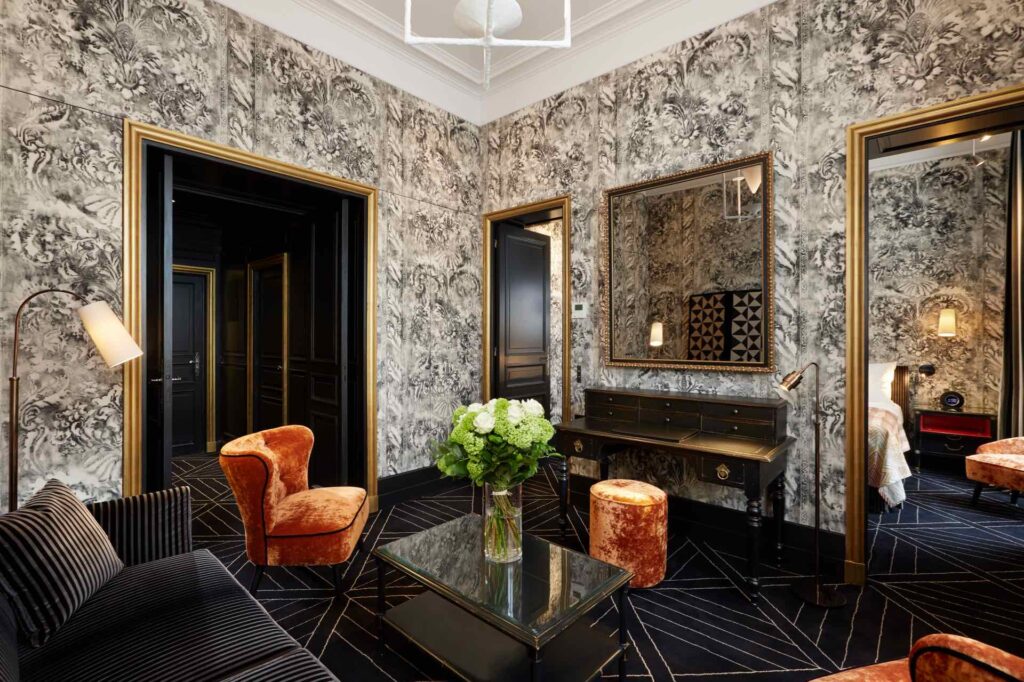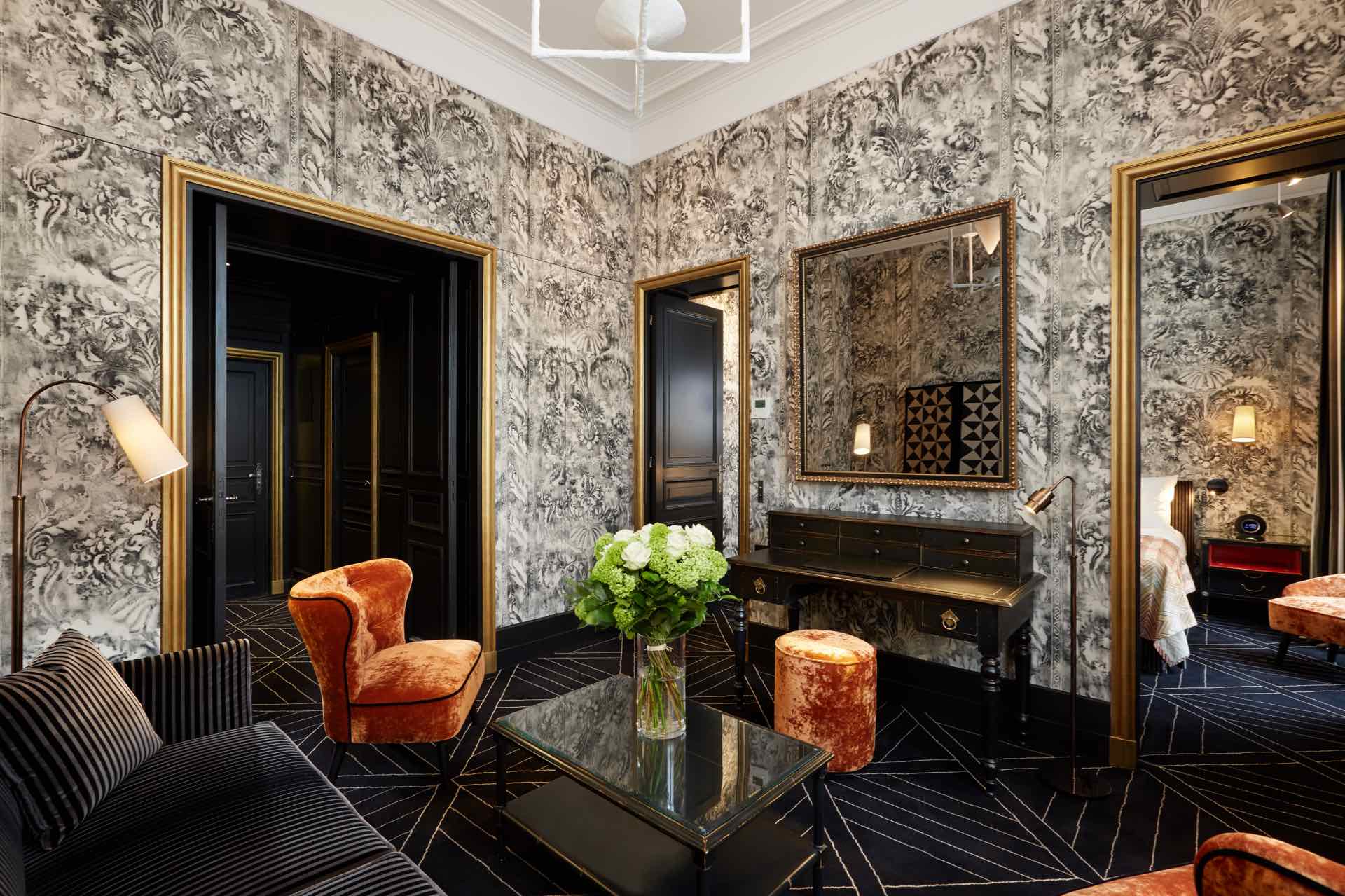 28 Place des Vosges, 75003 Paris
www.pavillon-de-la-reine.com
+33 1 40 29 19 19
M: Chemin Vert L8
---
Hôtel Bachaumont
Located in the Montorgueil neighborhood, the Bachaumont hotel delivers a true parisian lifestyle experience. With about fifty contemporary and different rooms all respectful of the building identity, Dorothée Meilichzon managed to create an intimate atmosphere in the heart of a sophisticated environment.
At the beginning of the 20th century, the Large Hotel of Bachaumont is an institution. This last holds its name of the famous author of the "Memories secrecies", chronicles tasty of France of the 18th century. The admirable masonry post haussmannienne accommodates notable and doctors. But especially of the traders allured by his situation, with two steps of the district of the Markets, the largest market of France. When the Markets are transferred to Rungis, it is the swansong for the Large Hotel of Bachaumont and its table if appraisal. The hotel closes down, before the Key reopens them.
Today, the establishment joins again with its mad years. Architects and designers endeavoured to make revive its history and its seal of yesteryear, such of the archeologists, restoring his frontage and its porch out of glass and wrought iron, finding until the historical inscription of the establishment engraved in the stone of size. The Bachaumont Hotel takes again life, with the image of its district, which is reinvented while joining again with its past.
text: Bachaumont hotel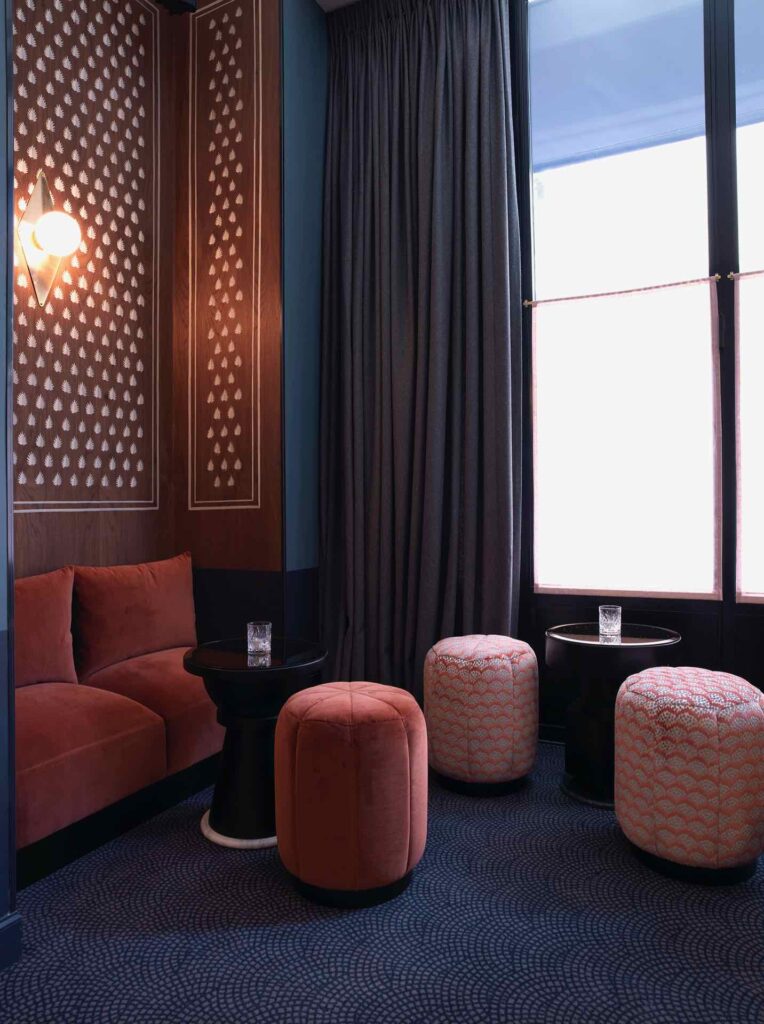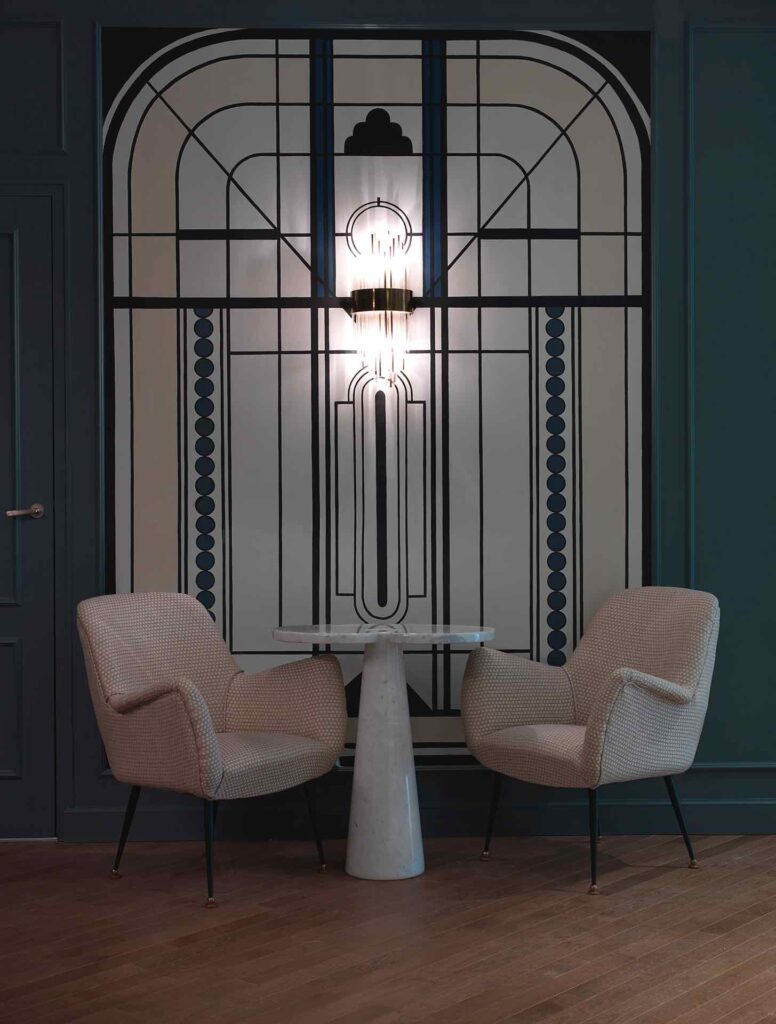 18 rue Bachaumont, 75002 Paris
www.hotelbachaumont.com
+33 1 81 66 47 00
M: Sentier L3
---
Les Bains
The Hotel Les Bains offers 39 spacious rooms and suites, each with a subtly different and unique personality.  The decoration of the rooms and suites uses carefully selected materials including white marble and precious woods, as well as custom-fine furniture, designed in tribute to our distinguished guests, including a Gainsbourienne carpet and a replica sofa which is distinctly Warhol-esque. Between the pockets of Joy Division vinyl, the mermaids of Les Bains who lended their good cheer to the "do not disturb" sign; and a beauty box concocted with care, the rooms and suites of Les Bains transcend style.
In other words, Les Bains are truly unique.
text: Les Bains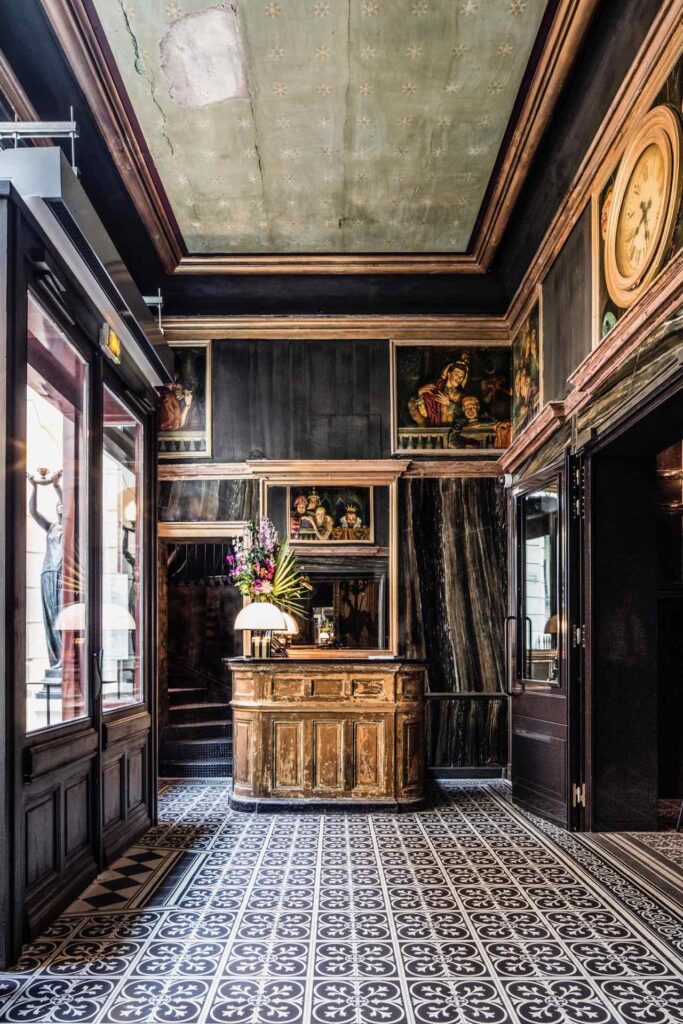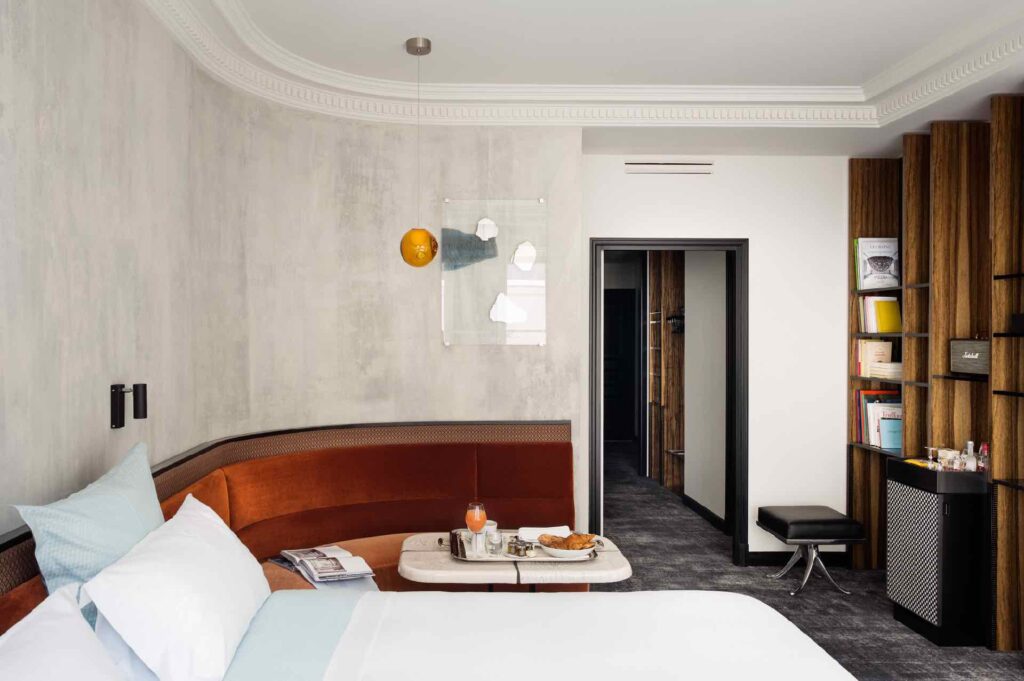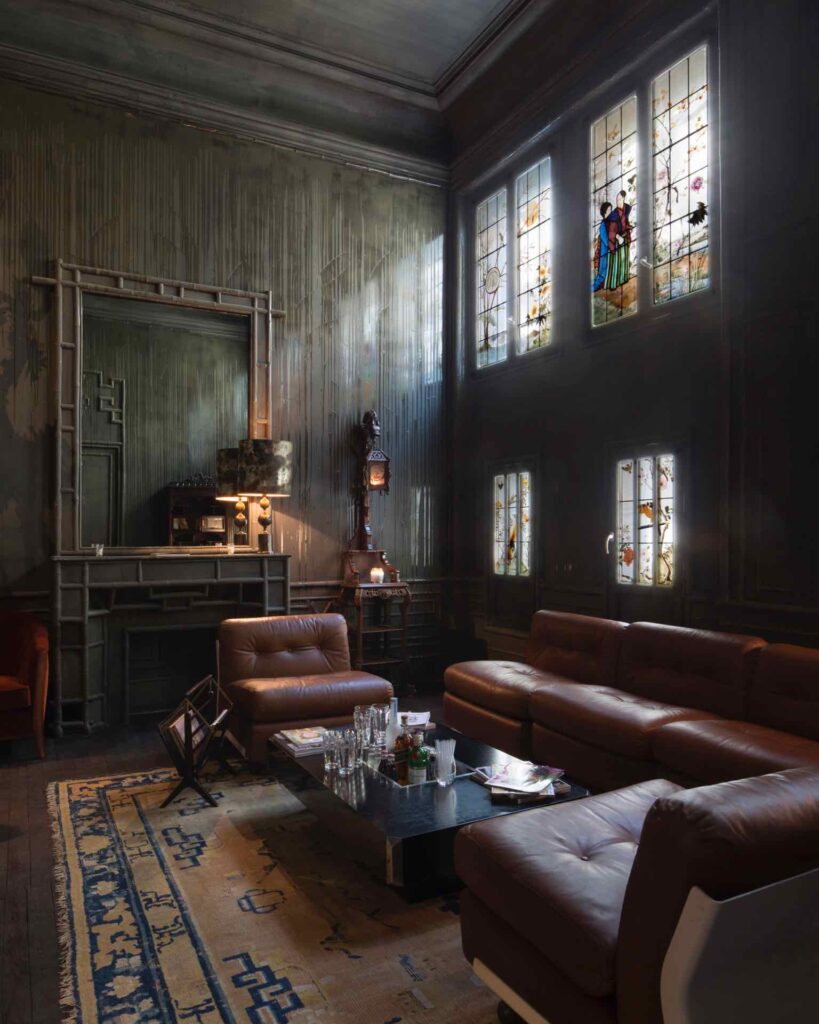 7 rue du Bourg-l'Abbé, 75003 Paris
www.lesbains-paris.com
+33 1 42 77 07 07
M: Étienne Marcel L4
---
Hotel National des Arts & Metiers
"National des Arts et Metier" – it's not just a random name but an effect of a fascination with the nearby museum. As the name obliges, the interior design has been carefully considered by Raphael Navot – a designer of the popular "Club Silencio". Carved, stone stairs, Rue Herold high quality fabrics, and furniture chosen by Moroso and Sol & Luna. Sheer elegance! We are captivated by the terrace with a magnificent view of Paris rooftops, Sacré Coeur and the Eiffel Tower. If you are hungry for more, visit the Herbarium, a bar-lab, ruled by Oscar Quagliarini – an artist with a passion for fusion. Not surprisingly, the place attracts Parisian café society.
text: IN Places city guide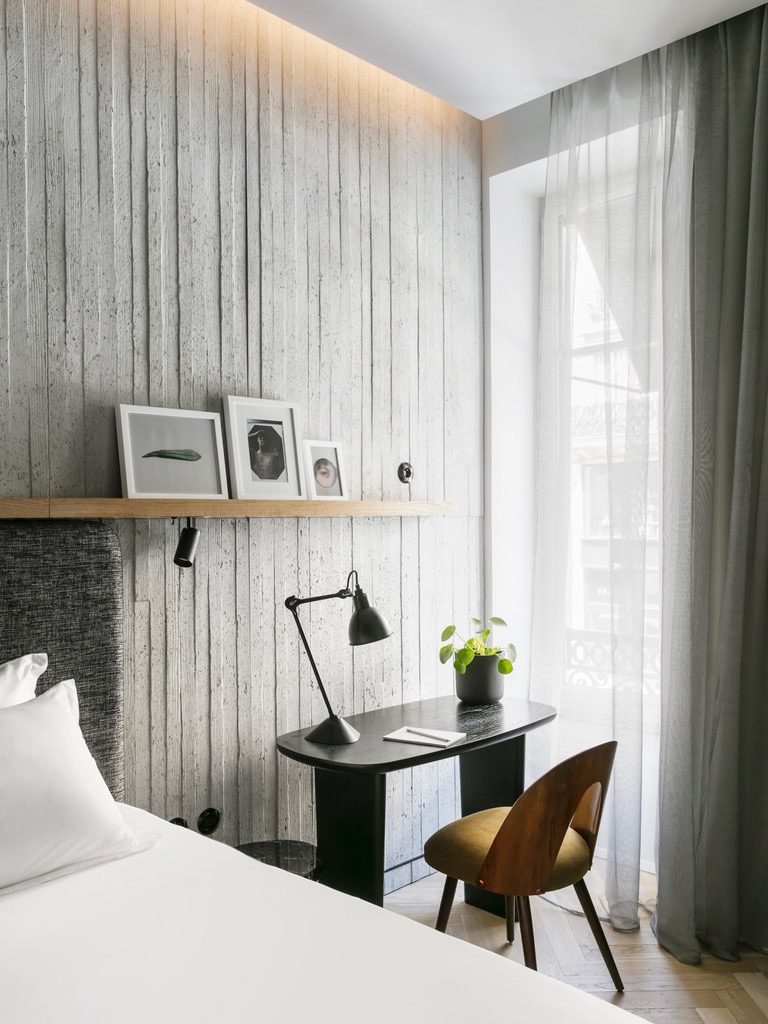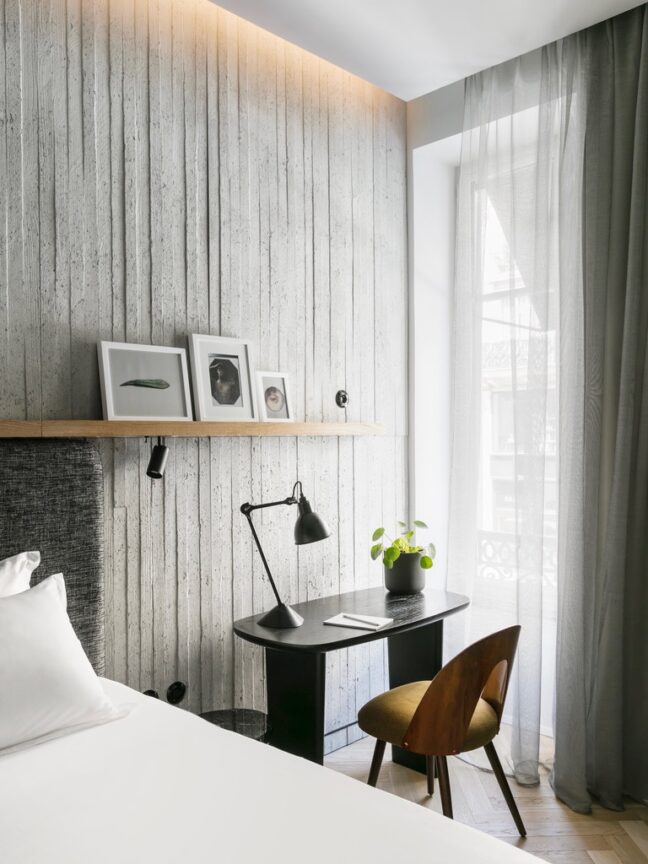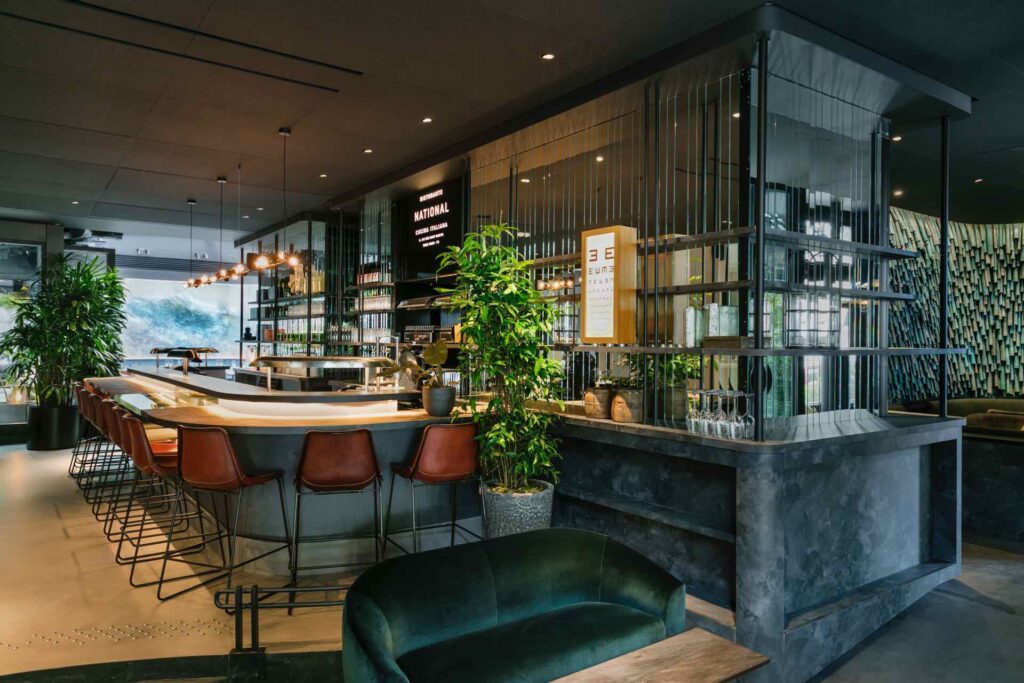 243 rue Saint Martin, 75003 Paris
www.hotelnational.paris
+33 1 80 97 22 80
M: Réaumur-Sébastopol L3 L4