Paris Photo at Grand Palais Éphémère
200 galleries and publishers. The event – Paris Photo – draws from the four corners of the world, galleries and publishers, artists, institutions, collectors, curators, key players, and enthusiasts in this ever-evolving ecosystem eager to exchange and make new discoveries in photography.
Rossy de Palma is the Guest of Honor for the 25th edition. A multidisciplinary artist shares her vision through an itinerary of 25 photographs that she has selected from among the gallery proposals, according to her sensibilities, her impulses, or in tribute to friends, such as William Klein, who passed away this year.
Paris Photo is the anchor for this week in Paris dedicated to the medium of photography. At the fair, the main sector brings together 134 galleries from 29 countries, while the Book sector focuses on the promotion and defense of the photobook, thanks to 34 international publishers.
In the main sector, the selection will bring together 134 modern and contemporary art galleries, specialized professionals, emblematic figures of the photography world such as DANIEL BLAU Munich, FRANÇOISE PAVIOT Paris, FREANKEL San Francisco, HAMILTONS London, HANS P. KRAUS JR. New York, HOWARD GREENBERG New York, MAGNUM PHOTO, Paris, PERSONS PROJECTS Berlin, YOSSI MILO New York… Leading galleries of the international scene representing multidisciplinary artists with important photographic projects GAGOSIAN Paris, NAHATHIE OBADIA Paris, PACE New York, KARSTEN GREVE Paris, GOODMAN London. Amongst the newcomers this year, the fair welcomes for the very first time 18 galleries: ALBERTO DAMIAN Treviso, ºCLAIRBYKAHN Zurich, DEEPEST DARKEST Cape Town, EINSPACH Budapest, ELIZABETH LEACH Portland, FRANCISCO FINO Lisbon, GALERIE C Paris, HESTIA Belgrade, MARTCH ART PROJECT Istanbul, ZILBERMAN Istanbul, PERSIEHL & HEINE Hamburg, SETAREH Düsseldorf, TMPG New York, WILDE Geneva. This selection brings together galleries from South America, Asia, Africa, as well as the Near and Middle East, with the participation of DEEPEST DARKEST Cape Town, LOFT ART Casablanca, MEM Tokyo, NATURE MORTE New Delhi, SILK ROAD Teheran, STEVENSON Cape Town.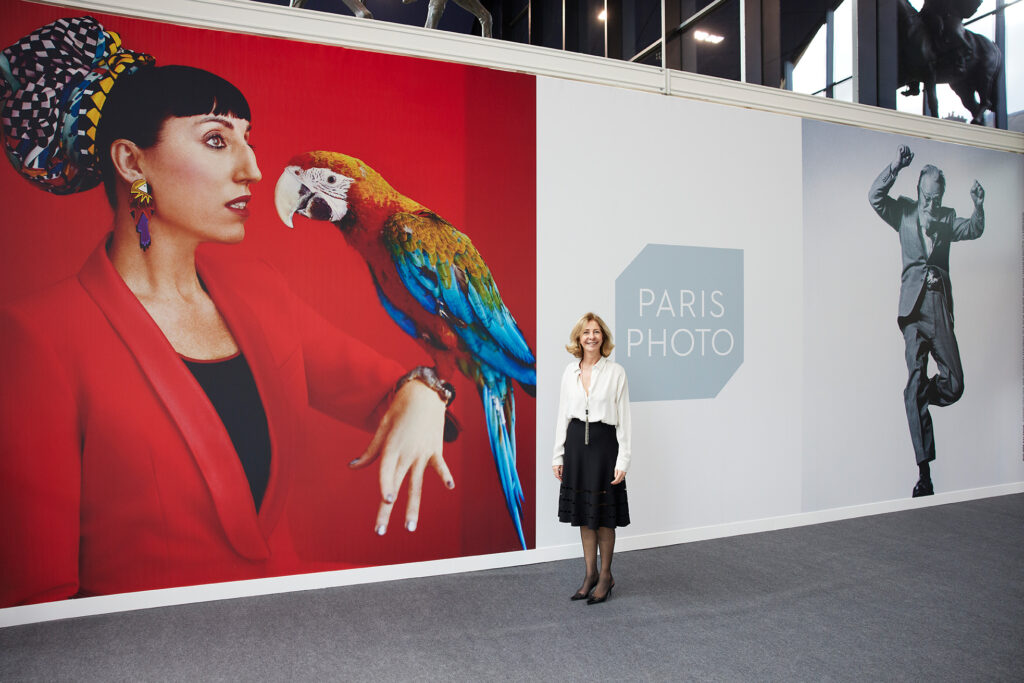 The main sector regroups this year 38 solo and duo shows and offers a unique opportunity to delve into the work of one artist, or to discover the rich dialog that takes place between two artists in the same gallery space. Among them, we find Daniel Gordon at HUXLEY PARLOUR (London), Barbara Probst with a triptych realized during the confinement and her 12-part project Exposure #106 at KUCKEI + KUCKEI (Berlin), Boris Mikhailov at SUZANNE TARASIEVE (Paris) with a tribute by the artist to the Ukrainian people with a very rarely shown series, Theater of War. Among the 14 duo shows proposed, GAGOSIAN (Paris) presents Sally Mann and Deawna Lanwson, ANNE-SARAH BENICHOU (Paris) unveils Corps Lucides a work in progress by Léonard Bourgois Baulieu, and a diptych by Laurent Montaron, LUME (São Paulo) presents works by Julio Bittencourt and Mame-Diarra Niang, and at TOBE (Budapest), find a selection of works by Anna Fabricius and Dafna Talmor. 
Among the first group shows announced, ADN (Barcelona) explores the iconography of disaster and protest, particularly in terms of femininity and mass media; KARSTEN GREVE (Paris) presents three masters of photography, Eugène Atget, Brassaï and Edward Steichen. MAGNUM (Paris) celebrates the 75th anniversary of the agency with a special exhibition curated by Martin Parr. FRAENKEL (San Francisco) brings together a selection of the gallery's renowned artists, with the introduction Carrie Mae Weems and her images from her Louisiana Project. And LOUISE ALEXANDER/ FELLOWSHIP (Los Angeles) presents NFT collections by emerging and established photographers and established photographers as well as artists' estates with works by Guy Bourdin Estate, August Sander Archive, Dmitri Cherniak x László Moholy-Nagy Estate, Cristina de Middel, Tania Franco Klein and Eman Ali.