Audiovisual works and installations. Lawrence Abu Hamdan
Lawrence Abu Hamdan's audiovisual works and installations explore the political implications of language and communication. Traces of governmental or corporate violence and mechanisms of surveillance and propaganda reveal themselves in the scope of auditory perception. Lawrence Abu Hamdan is the winner of the Baloise Art Prize 2018, which also includes a purchase for the collection of the Nationalgalerie. The exhibition at the Hamburger Bahnhof – Museum für Gegenwart – Berlin focuses on this video and sound installation. This whole time there were no landmines (2017) deals with physical and emotional boundaries in a haunting way.
The footage consists of mobile phone recordings taken in 2011 in the area of the Golan Heights, a hilly region in the Middle East. Since 1967, main parts of the Golan Heights have been occupied by Israel. Due to the particular acoustics, an area of the region became known as "shouting hill" or "shouting valley". The acoustic phenomenon of wandering and amplifying voices of this topography allows communication with megaphones across the border and was important for the separated families before the use of cell phones. The sound creates an acoustic bridge.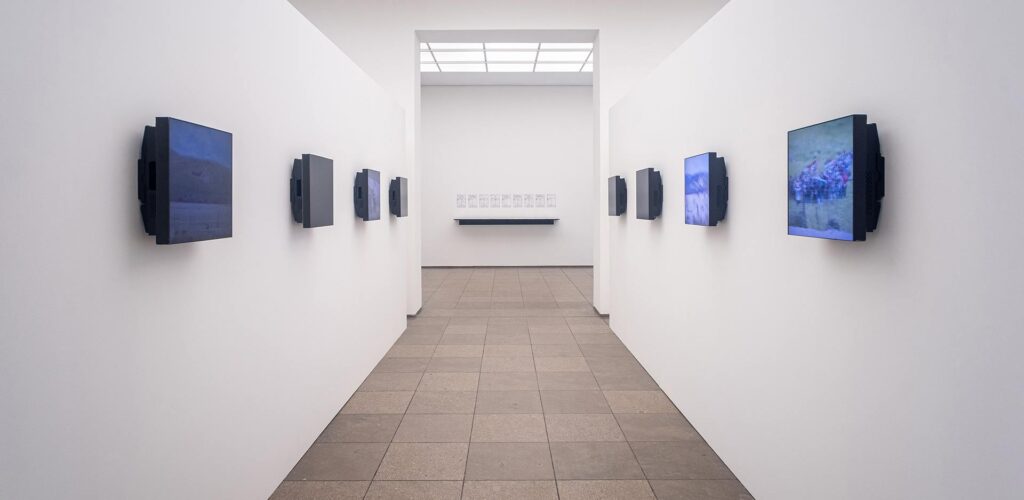 Abu Hamdan's visual and audio material dates from 15 May 2011. A group of Arabic protesters crossed the border for the first time and entered Druze populated territory, resulting in violent intervention by the Israeli military. In the space-filling video installation This whole time there were no landmines, recordings from mobile phone cameras can be seen on eight opposite square screens – eyewitness accounts in the midst of a disturbing soundscape of loud shouts, fragments of conversation ("Hey. Stop … Enough … There are land mines") and technical signals.
Two further works by Abu Hamdan complete the exhibition:In "Conflicted Phonemes" (2012) and "Disputed Utterance" (2019), Abu Hamdan explores language analysis methods in connection with international court and asylum procedures. Abu Hamdan, who works with Forensic Architecture as a research fellow and sound expert, has been featured at key biennials in recent years, from Gwangju to Sharjah to Venice. This year he has been nominated for the Turner Prize.