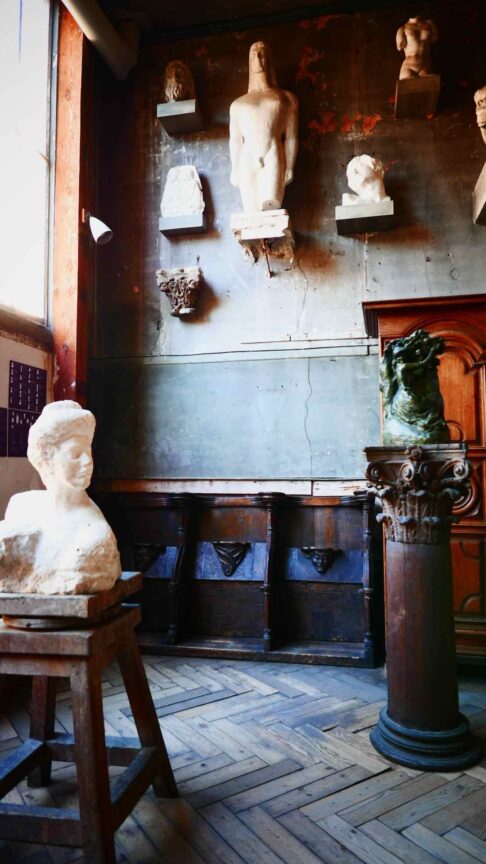 Musée Bourdelle Paris, home and garden dedicated to the sculptures he created
The Musée Bourdelle Paris offers to its visitors a unique range of exhibition areas, along with welcoming gardens that are ideal for a relaxing stroll at the heart of the Montparnasse district. From the intimacy of Bourdelle's apartment, where the artist worked, to the immensity of the Great Hall full of plaster casts bathed in soft light, visitors are free to follow their own path among the sculptor's work.
The garden of the Musee Bourdelle Paris contains most famous bronze statues, cast from the models displayed in the Great Hall. The Four figures of the Monument au général Alvéar (Monument to general Alvear) (1913-1923) – La Liberté (Liberty), La Force (Strenght), La Victoire (Victory) and l'Eloquence (Eloquence) – stand proudly in front of the arcade of the brick peristyle. Driven out of Eden, Adam (1889) now stands between Pénélope (Penelope) (1905-1912), an unshakeable pillar of fidelity, and Les Fruits ou la nudité des fruits (Fruit or the nudity of Fruit) (1902-1906), a chaste, voluptuous Eve crowned with apples… The sensuality of the Baigneuse accroupie (Crouching bather) (1906-1907) still bears the mark of Rodin. Standing out among these works, the "bravura piece" of Héraklès archer (Hercules the Archer) (1910) emerges as a sign of virile energy and the triumph of the artist.
The sculpture studio has surprisingly remained in its original state. The high glass roof, opened to the even, cold northern light, the mezzanine that allows one to look at the works from different angles, and even the walls, in the "colours of the time"… nothing has changed. The stove, the large wooden table assembled by Bourdelle's father and the tumtables are still in their original positions. The antique style moulds, the Samourai armour and the medieval capital acting as a stand were all part of the artist's environment.