Jules de Balincourt. Galerie Thaddaeus Ropac
Jules de Balincourt exhibits his latest series of abstract landscapes, initiated over a year ago and finalised during the first half of 2020, express a desire for both physical and emotional escape at Galerie Thaddaeus Ropac Paris. Mixing intimate and large formats, many of these paintings convey the soothing presence of nature and manifest the need for a shelter far from the world we live in. Created while Jules de Balincourt was splitting his time between Costa Rica, where he has been living partially for the past 20 years, and Brooklyn, where he has spent the last few months in lockdown, the paintings result from a personal reflection on the possibilities of isolation.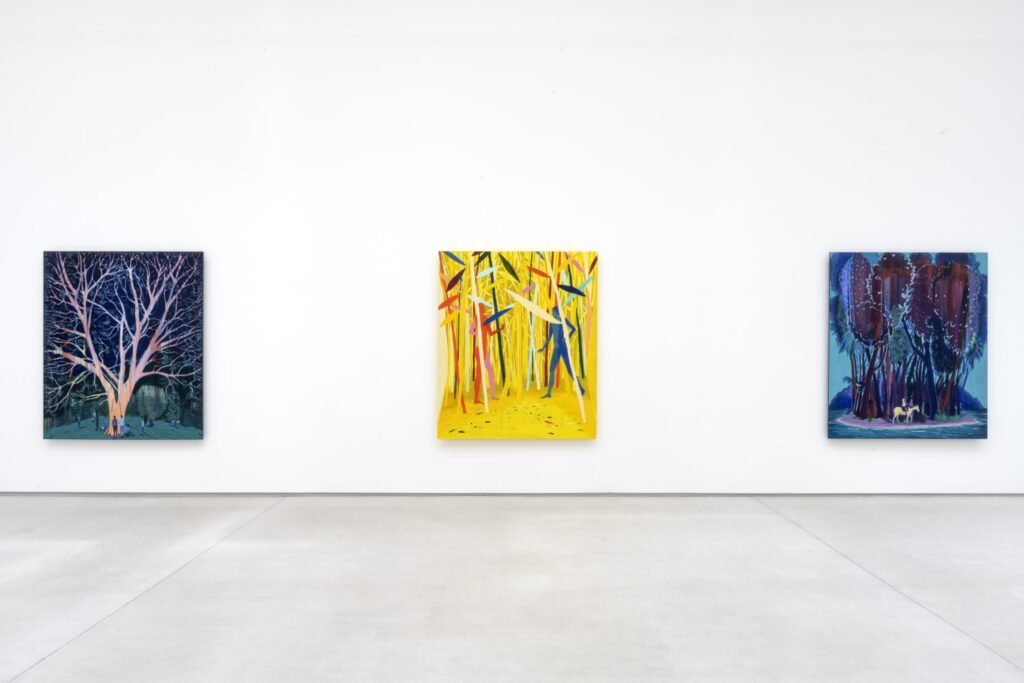 The title of the exhibition "There are more eyes than leaves on the trees" derives from a vernacular Costa Rican proverb, which conveys the notion that as isolated as you may be, everyone is always aware of your doings, even in a small fishing village lost in the jungle. It also suggests the debate surrounding the human domination of nature in a world quickly undergoing ecological collapse.
I was curious to see what would arise when simply painting a painting – pushing painting away from its literal narrative quality. I like the idea of placing the viewer at these crossroads of painting, in which one's emotive response hovers between rational realism or figuration, on the one hand, and the abstract subconscious or primitive on the other. By presenting a duality between these two ways of thinking and being, these paintings allow the viewer to travel from the conscious and recognisable into the mysterious and unknown.
Jules de Balincourt
Jules de Balincourt, born in Paris, France in 1972, moved to Los Angeles, California with his family in the early 1980s. In 1998 he graduated from the California College of Arts in San Francisco and moved to Brooklyn in 2000. He now lives and works in Brooklyn, New York and a small town in Costa Rica. Early in his career he participated to emblematic group exhibitions such as Greater New York held at PS1/MoMA (2005); Notre histoire… at the Palais de Tokyo in Paris (2006); Art in America: 300 Years of Innovation at the Guggenheim Bilbao in Spain (2007) and USA TODAY both at The Royal Academy, London (2006) and The Hermitage in St. Petersburg, Russia (2007).
He has held a number of international museum solo exhibitions including Mori Art Museum, Tokyo (2010), Montreal Museum of Fine Arts, Montreal (2013), Rochechouart Museum of Contemporary Art, Rochechouart
(2014), The Modern Art Museum of Fort Worth, Texas (2014-2015), Kasseler Kunstverein, Kassel (2015), and recently participated in important collective exhibitions: Rehang, Collezione Maramotti, Reggio Emilia, Italy (2019 – ongoing), Eldorado 3000 with two exhibitions Les enfants du paradis,
MUba Eugène Leroy Tourcoing and Eldorama, Tripostal, Lille, France (2019).
Jules de Balincourt is currently preparing a solo exhibition due to open in March 2021 at CAC Málaga, Spain.