Dansk Mobelkunst Gallery contemporary furniture
1st collection of contemporary furniture Creating from History
Chest in Kalmar Pine by Claus Bjerre for Dansk Møbelkunst.
The chest is a furniture type that seems largely forgotten, yet it has such a broad function. Claus' work is both thorough and innovative, carefully designed and constructed, it is simply good design and represents an experimenting and creative continuation of the Danish cabinetmaking tradition,
Ole Høstbo
Claus Bjerre normally works within the field of experimental furniture design, creating unique pieces that challenge traditional notions of design and construction methods: 
Most of my work is not suited for mass production, but it is still important to me that my furniture gets a life outside the workshop; that they are not only experiments – and this collaboration makes it possible. To me a piece of furniture is not finished until it is used,
Bjerre explains.
The inherent quality of the material
The chest is made in Kalmar Pine and characterized by a very harmonious exterior with vertical, displaced pieces of wood, that create a beautiful contrasting effect of light and shadow. This structure continues on the lid where it merges into a refined interlaced structure – a feature that is also present when you open the hinged lid. The chest contains two loose trays nestled above the main compartment.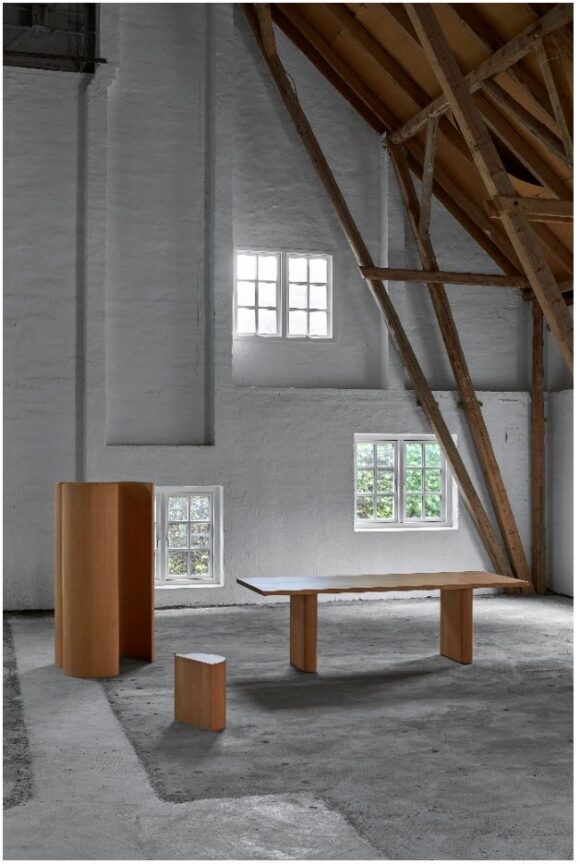 Bjerre describes how the idea of making a chest came from his research on the material:
I discovered that in traditional Scandinavian furniture making this Swedish wood type was widely used for storage chests, like wedding chests for example – a very functional piece of furniture that was characterized by high- quality workmanship and often handed down through generations. I liked the idea of creating a modern version with the same functional and crafted qualities.
The material was also an essential starting point in developing the design: "It makes sense to me to use a local Nordic wood type. Kalmar Pine has a very beautiful straight grained structure and I very much wanted to emphasize this inherent quality of the material in the design", he says. "That is why I chose to work with these straight pieces of wood and the interlaced construction, to highlight the decorative texture of the material."
Dansk Møbelkunst Gallery specializes in rare, original works of Danish furniture that were created during 1920-70, when a circle of craftsmen, architects and designers erased the distinction between works of art and functional equipment for everyday life. Established by Ole Høstbo in 1992, Dansk Møbelkunst takes its name from the Danish word for Furniture Art, a term that is rooted in the handicraft tradition and signifies a synthesis of aesthetics, utility and craftsmanship. During the twentieth century, møbelkunst evolved from the reproduction of historical styles to the creation of truly modern furniture that relied on beautiful materials, rather than applied decoration, and finely-crafted details for its aesthetic value. The gallery's expertise encompasses both handcrafted masterpieces and iconic works of industrial design.
Dansk Møbelkunst Gallery is proud to announce the collaboration with celebrated designer Michael Anastassiades and talented Danish furniture designer Claus Bjerre. The collaboration is part of a new initiative launched by gallery owner Ole Høstbo, who has teamed up with a select group of contemporary designers to further cultivate the values that apply to the gallery's work within the field of 20th century Nordic design.