Daniel Arsham large-scale sculptures inspired by antiquity
Perrotin Paris presents an exhibition of new works by New York-based artist Daniel Arsham. For this exhibition, Daniel Arsham will present a new suite of large-scale sculptures based on iconic busts, friezes and sculptures in the round from classical antiquity. Over the past year, Arsham has been granted unprecedented access to the Réunion des Musées Nationaux – Grand Palais (RMN), a 200-year-old French molding atelier that reproduces masterpieces for several of Europe's major encyclopedic museums. Arsham was able to use molds and scans of some of the most iconic works from the collections of the Musée du Louvre in Paris, Acropolis Museum in Athens, the Kunsthistorisches Museum in Vienna and the San Pietro in Vincoli as source material for this new body of work. Interested in the way that objects move through time, the works selected by Arsham are so iconic that they have eclipsed their status as mere art object, and instead have embedded themselves into our collective memory and identity.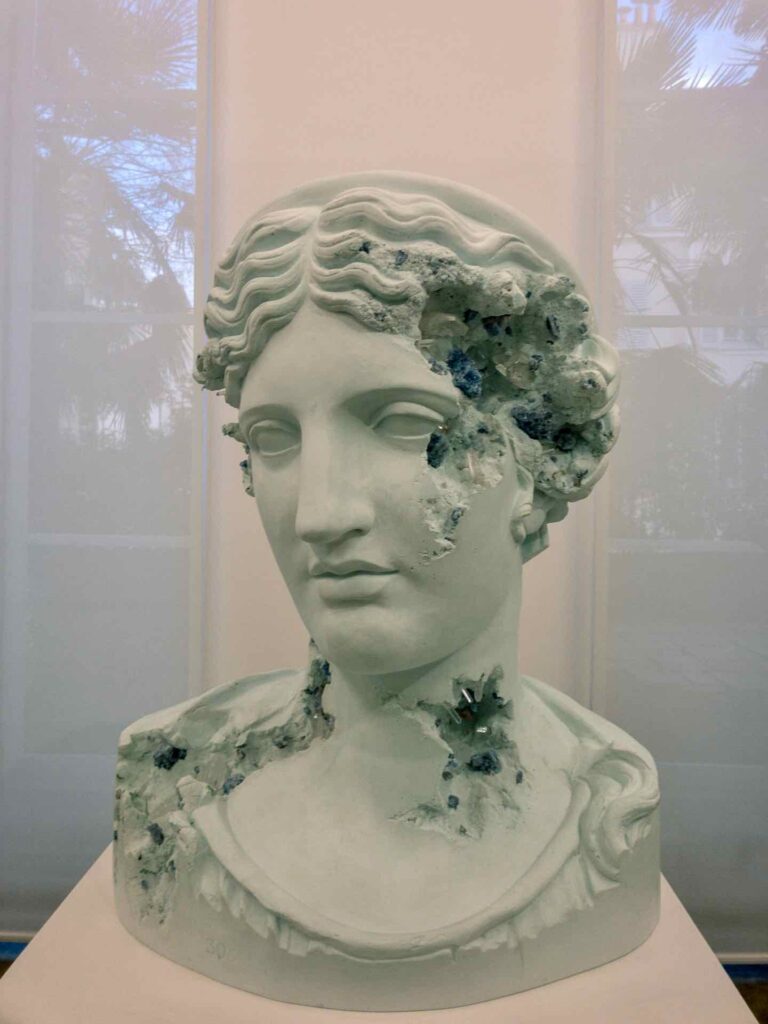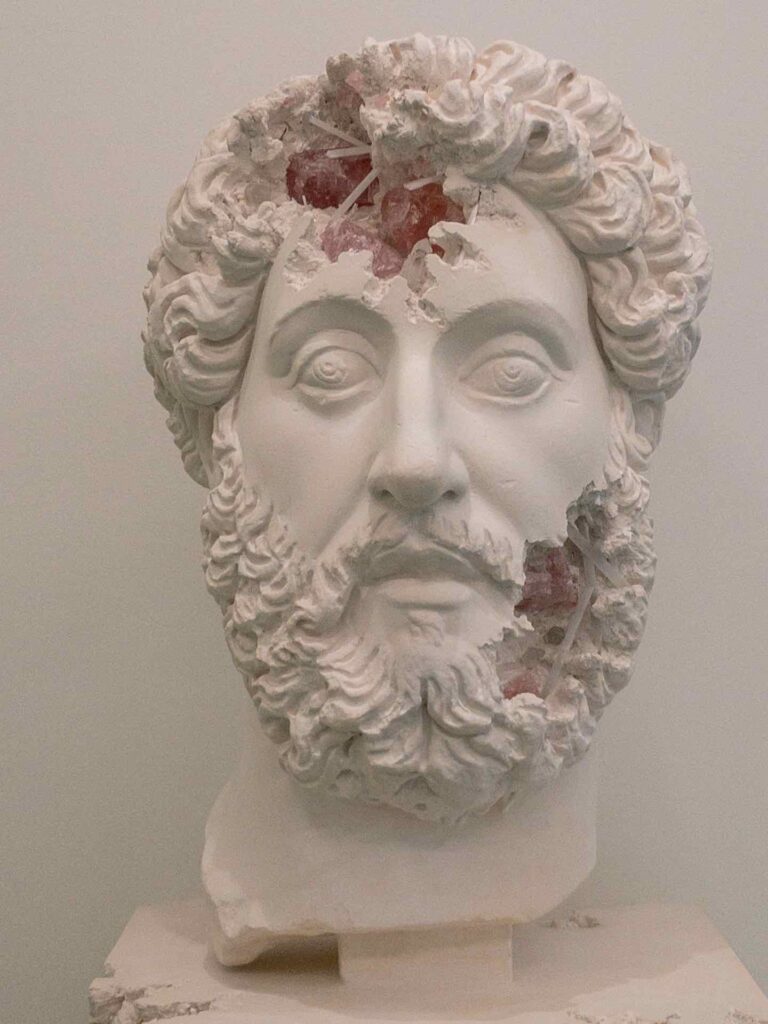 Ranging from Michelangelo's Moses to the Vénus de Milo, each item was cast in hydrostone to produce a perfect to scale replica of the original sculpture, a process that shares formal qualities with historic wax casting. Arsham utilizes natural pigments that are similar to those used by classical sculptors, such as volcanic ash, blue calcite, selenite, quartz, and rose quartz. From that, individual erosions are chiseled into the surface of the hydrostone, a nod to the sculpting techniques of the Renaissance sculptors. Finally, Daniel Arsham applies his signature tactic of crystallization.
Daniel Arsham is best known for visually transforming ready-made objects of the last half century into subtly eroding artifacts. Historically, he has focused on items that act as containers of memory: an original Apple computer, a Mickey Mouse phone, or Leica cameras. Arsham's exploration into fictional archaeology dates back to nearly a decade ago when he took a research trip to Easter Island in the South Pacific. There, he observed an archeological expedition of a Moai statue. Around the base of the sculpture, archeologists uncovered tools left behind by a previous archeological expedition from almost a century prior. Inspired by the dissolution of time between these distinct landscapes, Arsham began to explore the idea of archeology as a fictionalized account of the past, as well as a tool with which to collapse the past and the present. This concept has become a common thread throughout his practice. Making use of classical and ancient objects, this new body of work experiments with the timelessness of certain symbols, furthering Arsham's previous investigations into objecthood.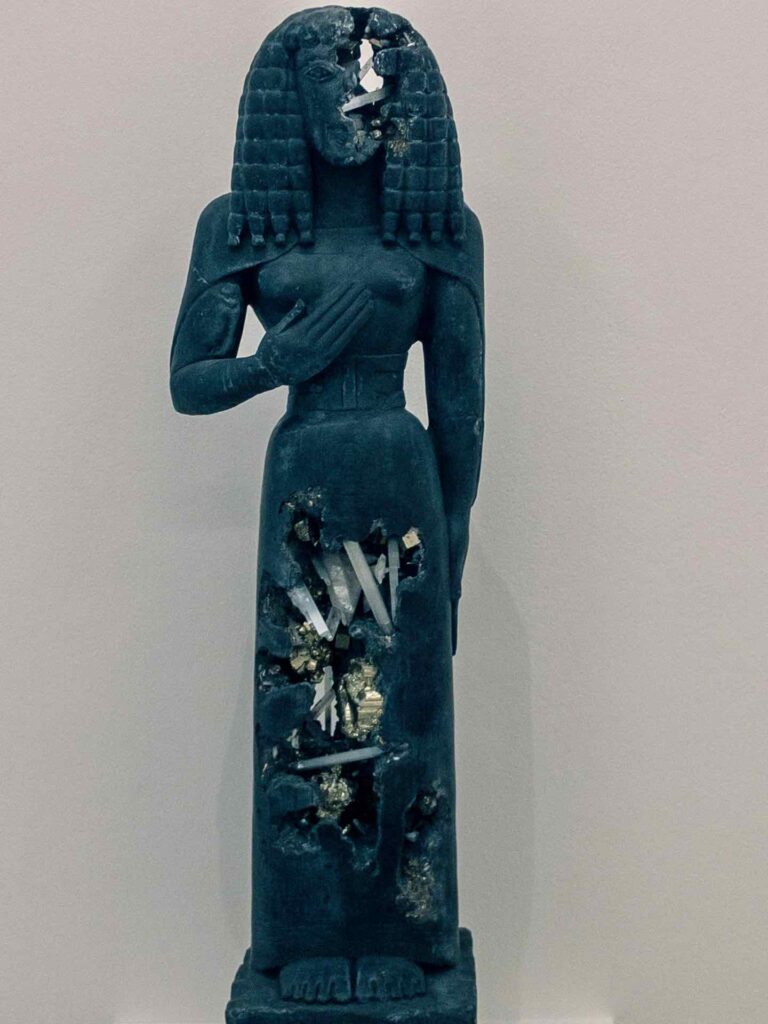 For Paris, 3020, Arsham borrows display strategies from the modern museum, including elevated plinths, dimmed lights, and a series of nested exhibition spaces. By appropriating the visual language of the encyclopedic museum, Arsham makes deliberate reference to how museums have showcased and shaped object history, specifically as a vehicle that canonizes objects within a greater narrative of progress.
In the first room of the exhibition, visitors encounter two large-scale iconic works of classical antiquity that depict women, specifically the goddess Aphrodite and Lucilla, the daughter of Roman Emperor Marcus Aurelius, which are respectively titled Vénus d'Arles and Tête de Lucille. Moving into the next room, Arsham continues his ongoing reference to the great works of Western Art, with an eroded version of Michelangelo's Moses on one end of the wall and the Vénus de Milo on the other. Both are flanked by a series of busts and life-size sculptures, including the bust of Caracalla wearing a breastplate and the Athéna Casquée, with both pairings highlighting how the ancient world conflated royalty and deity. Flanking the sculptural works are a series of graphite process drawings by Arsham depicting eroded icons of classical antiquity.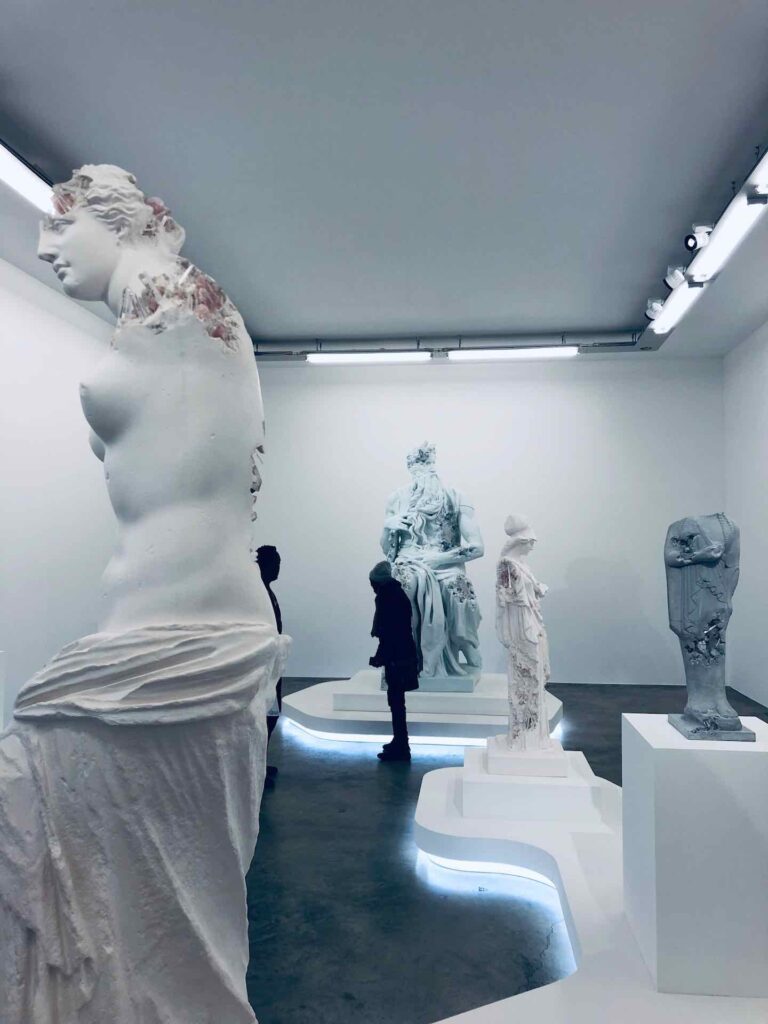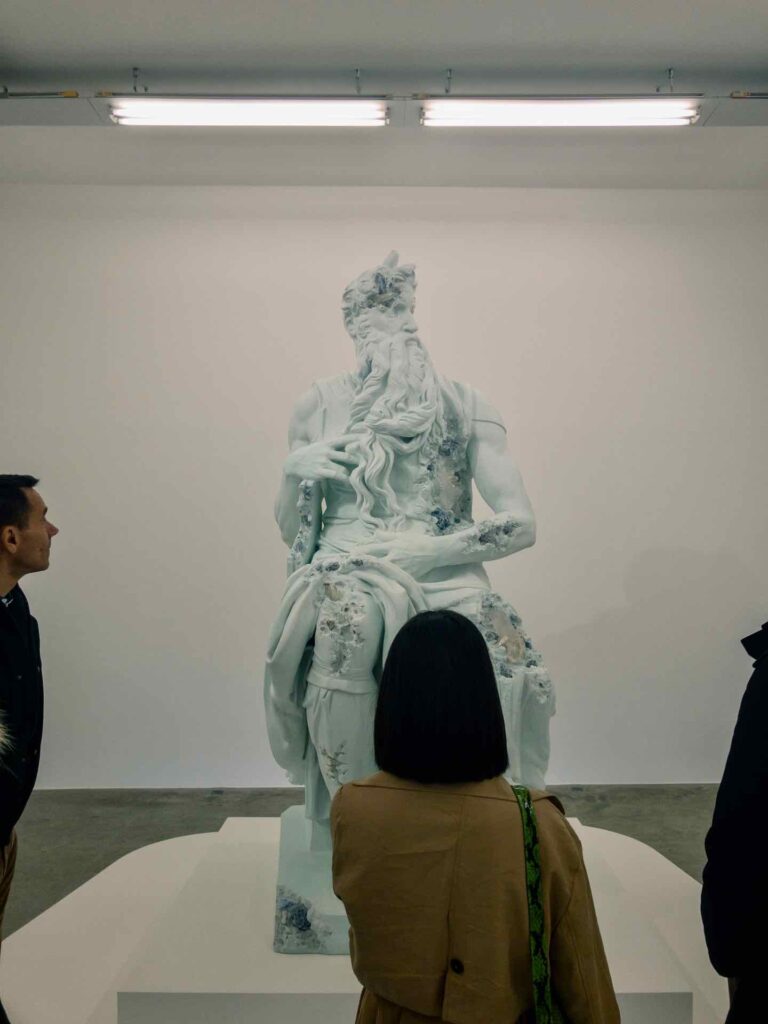 These drawings both reference Arsham's background in fine art as well as the art historical tradition of sketching, providing a fictionalized creation myth for works that seemingly were never meant to exist. Displayed together, these new works are transformed to compress time, at once referencing the past, informing the present, and reaching towards a crystallized future.