La Biennale di Venezia. Arte 2019
The 58th International Biennale Venezia Art Exhibition, titled May You Live In Interesting Times, takes place from 11th May to 24th November 2019. The title is a phrase of English invention that has long been mistakenly cited as an ancient Chinese curse that invokes periods of uncertainty, crisis and turmoil; "interesting times", exactly as the ones we live in today.
The title of this Exhibition could be interpreted as a sort of curse where the expression "interesting times" evokes the idea of challenging or even "menacing" times, but it could also simply be an invitation to always see and consider the course of human events in their complexity, an invitation, thus, that appears to be particularly important in times when, too often, oversimplification seems to prevail, generated by conformism or fear. And I believe that an exhibition of art is worth our attention, first and foremost, if it intends to present us with art and artists as a decisive challenge to all oversimplifying attitudes.
President Paolo Baratta
curator/ Ralph Rugoff, currently the director of the Hayward Gallery in London
The Future is Now / El futur és ara. The pavilion's provocative proposal, in the form of a fragmented installation, seeks to criticise the effects of exacerbated consumerism and to rouse the collective consciousness. Despite the bright saturated colours and clean perfect finishes of Philippe Shangti's works, they are envisaged as a protest and an incitement to thought. The artist boldly portrays superficiality, while building stories that have been meticulously conceived. With photography, sculpture and kitsch audio- visuals, the project is set within the framework of the metalanguage of art and brings us closer to the contemporary aesthetic of Pop art style. It is an invitation to reconsider the consumerist present which is leading us towards a precarious future that is already too near.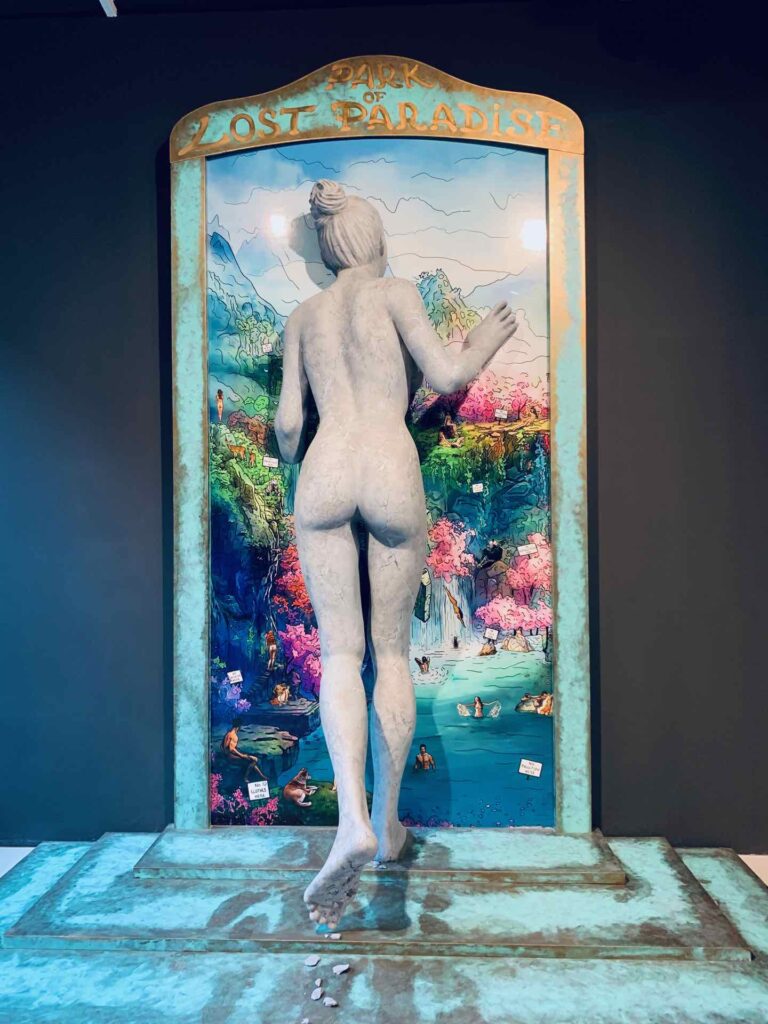 Martin Puryear: Liberty. With this exhibition in the US Pavilion, Martin Puryear has said that he represents his country as both an artist and a citizen. This position is not a discovery for those who know the artist and his work. Viewers can learn how an artist's treatment of a symbolic but tangible human subject – namely, liberty – can be best expressed in sculptural form through an abstract visual language of great originality and certitude.
The Arsenale was the largest production center in Venice during the pre-industrial era and in full-time periods it had up to 2,000 workers a day. It was a huge complex of construction sites where the Serenissima fleets were built and, therefore, a symbol of the economic, political and military power of the city. Since 1980 the Arsenale has become an exhibition site of La Biennale on the occasion of the 1st International Architecture Exhibition. Later on, the same spaces were used during the Art Exhibitions for the Open section.
Destabilising demarcations between the organic and the synthetic, science and fiction, human and non-human, Anicka Yi's protean creations are undergirded by what the artist describes as the "biopolitics of the senses". Yi's new body of work centres on recent enquiries into "biologizing the machine" as she focuses in on the sensorium of the machine and contemplates how new channels of communication can be established between artificial intelligence (AI) entities and organic life forms.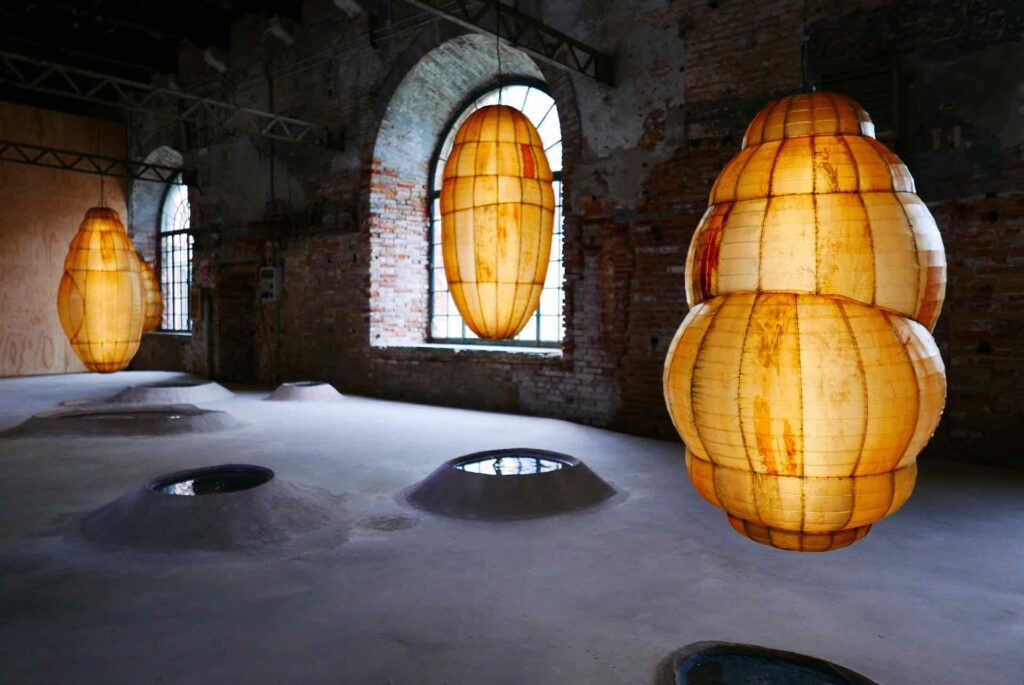 Working between performance, video and installation, Korakrit Arunanondchai creates a zone in which family, superstition, spirituality, history, politics, and art intertwine. Galleries are dressed as spaces of potential and coming-together. Recently, he has constructed uncanny forest settings: the habitat of rat-like creatures that might survive the Anthropocene. His interlinked series with history in a room filled with people with funny names started in 2013. The recurring central character, a fictional Thai painter, is depicted in situations that reflect the interaction between traditional beliefs, the natural environment, and developments in the technology, politics, and culture of a changing Thailand. The sculptural installation presented in the Central Pavilion is a series of 'post-natural' tree-like forms, while the Arsenale hosts a three-screen installation made with Alex Gvojic (1984, USA).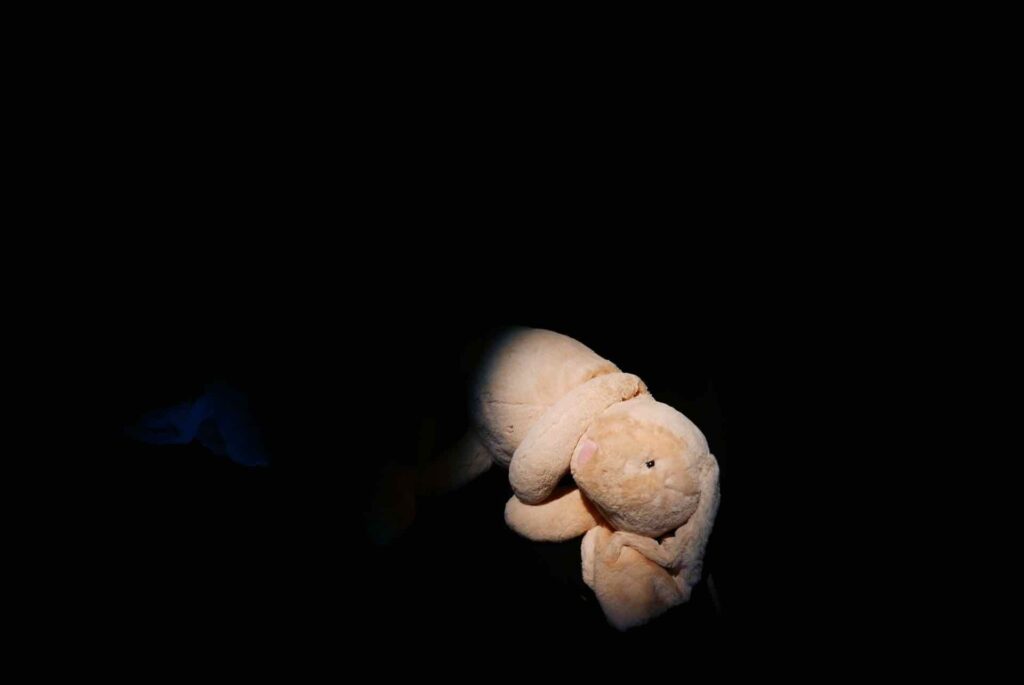 A sense of estrangement runs throughout Anthea Hamilton's work. Vintage references from popular culture, fashion and design open up into immersive environments and uncanny objects, their original meanings emptied out and transformed within her sculptures and installations. Temporal distances from the art and culture of past decades can be misleading: the lapse of time can render certain references celebratory, kitsch and even neutral. Within Hamilton's work, however, the benign elements of fashion and design are reconsidered. In previous works, she has borrowed from historic designers, celebrities, and iconic fashion trends to amplify their implications and also turn them inside out. Provocations are brought forth through repetition and a deployment of blankness and surface. The results are almost claustrophobic, oppressive in the desires that Hamilton's transformations reveal.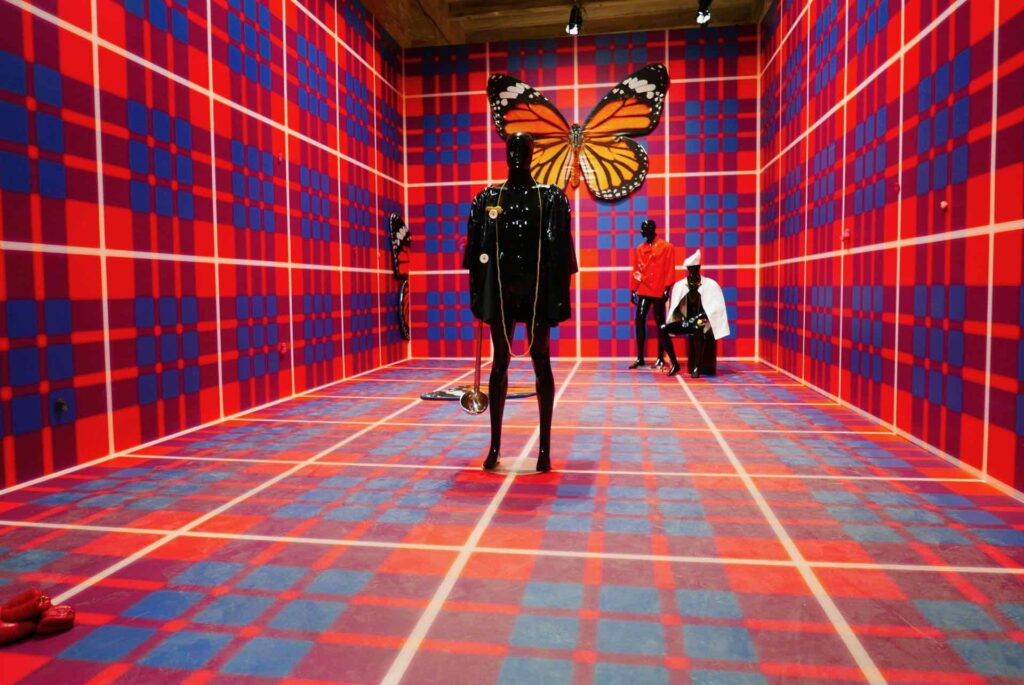 At a time when the art world wonders at the first "artworks" produced by artificial intelligence and legitimises their status in the art market, Hito Steyerl questions AI's applications. Unencumbered either by ethics or by a relevant legal framework, large corporations, often in tandem with the military industry, develop these technologies following their own economic interests while society at large remains oblivious to a discussion which is already changing its life-conditions. Following the trail of writers such as Jules Verne or Philip K. Dick and also referring to the work of Leonardo da Vinci, Steyerl is a harbinger of a future that she invites us to ponder.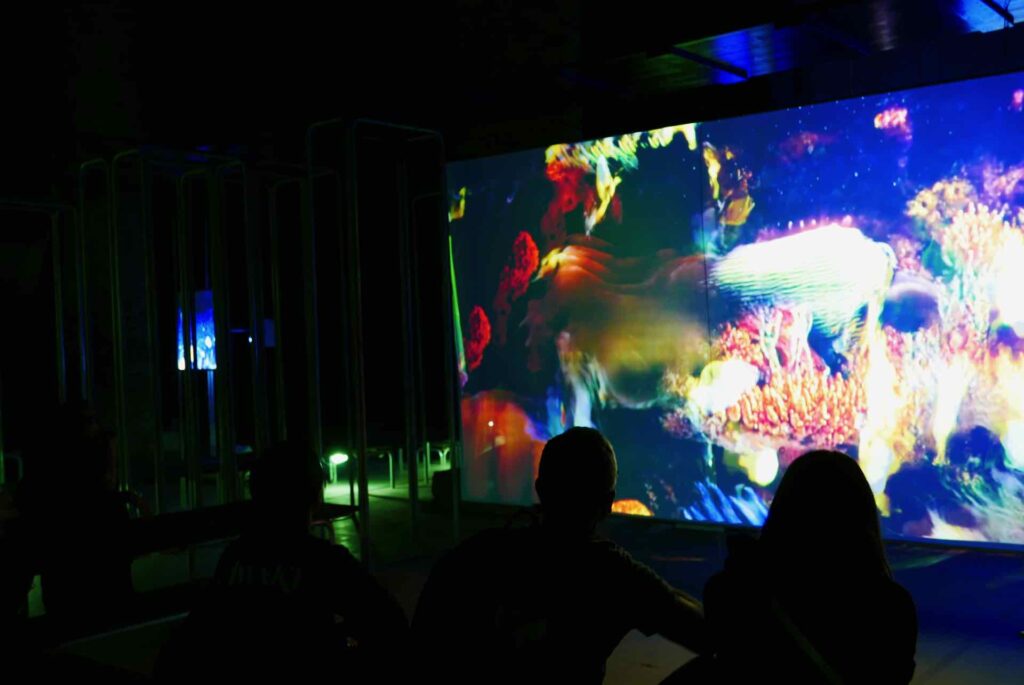 Obsessive compulsions and violent desires; submission to sexual and political dominance; the fragility of human existence; identity as construction and fiction: these are some of the themes that undergird the nihilistic and tragicomic scenarios explored in Andra Ursuţa's sculptures and installations. Hingeing on paradox and irony, the artist's work draws on political events, clichés and allegories, as well as personal memories, in an attempt to expose and disrupt the power dynamics that perpetuate the precarious boundaries between violation and banality, indifference and empathy, abjection and humour.
1984, Republic of South Africa
Kemang Wa Lehulere's richly layered work encourages visitors to gather around it in shared contemplation. This notion of the collective is key to the artist's broader practice: he became an artist in his late twenties, after many years' experience as an activist in Cape Town. He established Gugulective in 2006, an artistic platform for performance and social intervention. Both the installations exhibited in the Arsenale and in the Central Pavilion are made from salvaged wood and metal from school desks and chairs. Each element in these works comes together in a web of associations, references, and stories because for Wa Lehulere, personal biography and collective history are inextricable.