Animapolis the first Hermès scarf. Jan Bajtlik
In this phantasmagorical city, zebras, dinosaurs, monkeys and toucans joyfully run riot. Each animal tells a story – a dragon lays siege to the Warsaw Palace of Culture and Science, a leopard sets its sights on the Kremlin in Moscow, and a panda and crocodile pass the time lounging at the foot of Moscow's St. Basil's Cathedral. And, for the very best view of this delightful spectacle, other protagonists gather at the windows of Hermes on Faubourg Saint-Honore in Paris. An exuberant composition, Animapolis is Jan Bajtlik's, a graduate of the Warsaw Academy of Fine Arts, first silk scarf designed for Hermes.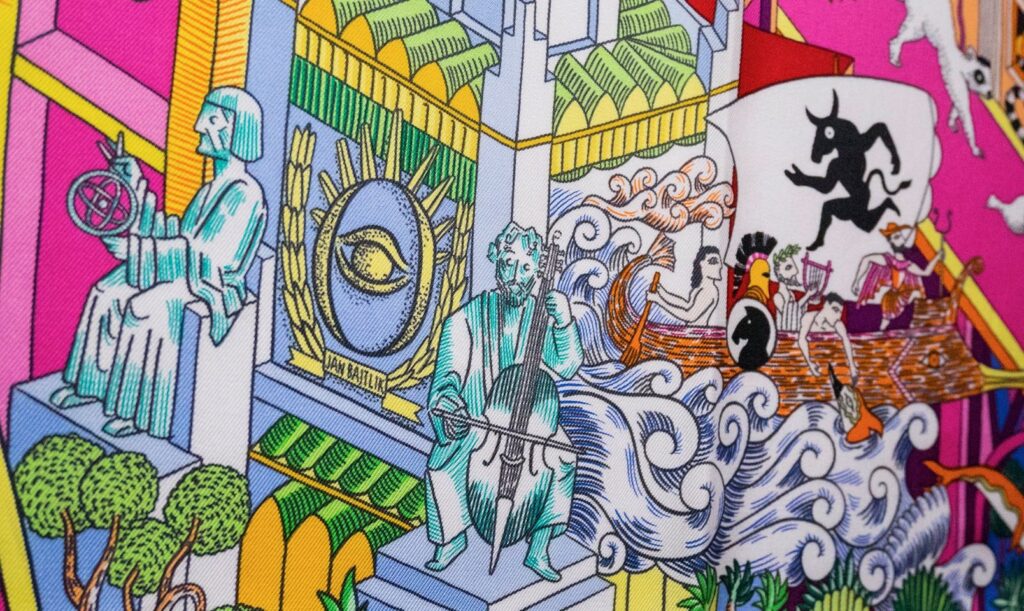 Bio. Jan Bajtlik is an illustrator, graphic designer, and typographer based in Warsaw. Alphadoodler, his first book, was awarded the international BolognaRagazzi Award for nonfiction. His illustrations have appeared in Time, the New York Times, and other major publications. He has a master's degree from the Academy of Fine Arts in Warsaw and is a PhD candidate in the graphic-design department there.